New ski park for children in Alpe d'Huez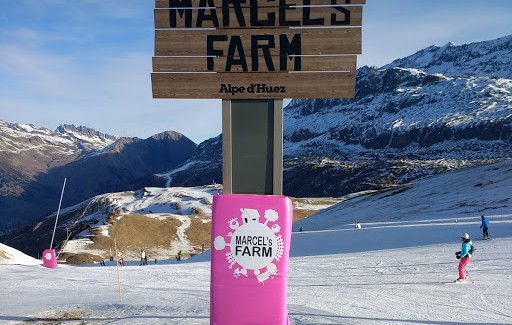 A brand new ski park especially for children has opened this winter in Alpe d'Huez.  It's called Marcel's Farm and, as the name suggests, follows a farmyard theme!   
When the chill sets in in the Alps, most farm animals return to the valley to spend the winter in the warmth of the village stables.  But not Marcel the cow and his friends… they prefer to stay up on the slopes at Alpe d'Huez to play with the children!
The French resort of Alpe d'Huez has created a wonderful new family play area, called Marcel's Farm.  Here, little ones can play, ski and try out safe, simple tricks away from the main pistes, all accompanied by Marcel and his friends Brigitte Bridge, the goat; Reno Turbo the dog; and Ralf Pipe, the pig, to name but a few…
We especially love the ram, Paulo Rodeo, who's positioned by the "Whoops" – a wave-shaped module.  Then there's Tina Turn, a cat who stands beside a 270 degree turn; Les Grenouilles (the frogs), a series of mini bumps; and Agathe Gate, a sheep who marks out the gates of a mini-slalom.
The Farm with its simple kiddie trails, pipes and rails is located at Signal, near the top of the Villarais chairlift from Villard Reculas 1500, and the new 4-seater Grande Sure chairlift from Alpe d'Huez 1860.