New 3D Skiing App launches this Saturday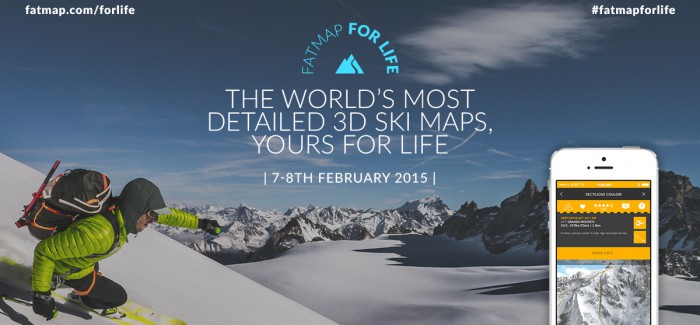 Do you use skiing Apps?  If so, FATMAP is BIG news for you?… The eagerly awaited 3D skiing app, FATMAP, launches this Saturday 7th February, boasting the world's most detailed 3D ski maps.  To celebrate the launch, it's offering a special 48-hour offer of 'FATMAP for Life'.
FATMAP is offering users who purchase a one year Piste or Freeride subscription of their favourite ski resort during the limited 48-hour offer, to automatically receive that subscription for the resort of their choice every year for life, for free.
The new ultra-high resolution 3D ski mapping app is set to revolutionise skiing or snowboarding by offering unique features never seen before in a ski map. The new technology will redefine navigation, as skiers and snowboarders experience the latest high resolution 3D models of the most popular ski areas with a grid resolution of just 2m.  This unprecedented level of detail, and the ability to move around the 3D world from any angle and distance, will transform how users plan a day out on the slopes, both on and off the piste.
There are two versions of FATMAP depending on your passion; a PISTE version and a FREERIDE version. Both offer high-resolution 3D piste mapping, detailed route descriptions, 3D fly throughs, interactive resort and conditions information, real-time location sharing and ski tracking and stats. The FREERIDE version also details off-piste routes giving profile information and 3D fly throughs, gradient heat mapping, altitude segmentation, crevasse zones and avalanche zones so skiers can make better-informed decisions and explore safely.
You can check out some of its features here:
The exclusive 'FATMAP for Life' offer will be available for download via the Apple Store from 00:00 on Saturday 7th February until 23:59 on Sunday 8th February 2015 for Chamonix, Verbier and Zermatt. Subscriptions are £4.99 for FATMAP Piste per year and £15.99 for FATMAP Freeride per year. Choose a 12-month subscription and you will automatically receive a lifetime subscription for that version of FATMAP and your chosen ski area – no code needed. Normal subscription rates will apply after the launch offer period expires. To find out more, check out the FATMAP website by clicking HERE.
More resorts including Espace Killy and Paradiski and an app version for Android and Windows phones will be available soon.
The worlds most detailed 3D ski maps, yours for life!