Late season skiing in Trysil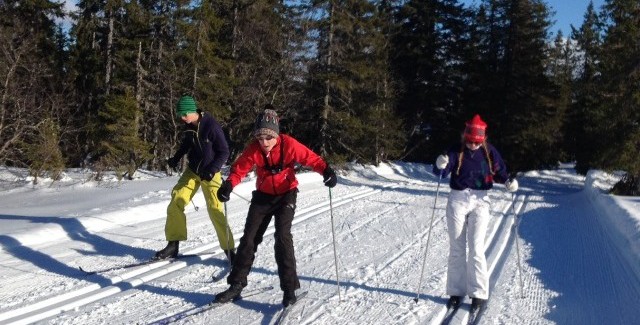 A seasoned skier in the Alps, this Easter our teen-ski-correspondent, Katie Campkin, discovered the joys of skiing in Norway, late season snow and how affordable Scandinavia can be, even if you book it all yourself. Here's her story:  
As far as Easter skiing goes, we have learnt to accept the inevitability of skiing down slushy runs in sometimes nothing more than a t-shirt and salopettes. Frequenters to the Alps are used to needing ice creams in lieu of hot chocolates, and have accepted that they will arrive home with a face full of freckles and/or a splendid goggle tan line.
With Alpine skiing, that is almost certainly the case. However, this Easter, my family and I made the decision to go and spend nine days in Trysil, Norway with our Norwegian friends. Due to the impracticality of driving, yet the lack of package deals available so late in the season, we did all the trip planning and booking ourselves.
With regular flights to Oslo with British Airways, London Heathrow was the obvious place to fly from. It was a very early start, so breakfast on the plane was hugely appreciated!
From Oslo airport, our flight arrival was timed perfectly to coincide with the public 'bus' service to Trysil. Knowing Norway's reputation for extortionate prices, and as a family of six, we'd thought travelling to and from the resort was something that could have potentially cost a fortune, yet the two-hour luxury coach journey along snowy roads to Trysil was only around £100 return for the whole family – no more than a private minibus transfer in the Alps; indeed cheaper than some!
By creating our own package, we also managed to take advantage of the fact that SkiStar- who have the monopoly of Trysil – offer lift passes for the same price whether for 6, 7 or 8 days. This meant we were able to ski for two days more than one the average package. We were forewarned by our Norwegian friends about high alcohol prices, so we stocked up on Duty Free before leaving the UK!
Hugely different from the Alps, the resort of Trysil is situated at the foot of a large mound in the middle of a plain – it barely resembles a mountain. However, due to its proximity to the arctic circle, the temperatures here only rose once to thawing temperature, even in mid-April. The rest of our stay, it remained below zero, providing perfect snow conditions – a great contrast to our previous holiday in Lech earlier in the season, when there was more rain than snow in resort (you can read about our snowless holiday in the Austrian resort last December by clicking HERE).  Apart from a heavy dump of white stuff on the second day, for the rest of the week the pistes were bathed in perfect sunshine. It was definitely sunglasses weather, not goggles!
The resort had a great mix of slopes with varying difficulties, with the trend being five or six of the same colour slope in each little area, due to the gradient of the mountain in that area. And if you think there are no black runs in Norway, then you're wrong!
Despite the ratio of chairlifts to runs being less than in France or Austria (the Norwegians tend to link runs with vast numbers of T-bars instead), this was to our advantage, as they were all quiet. In addition, each queue has a separate 'single-person' fast track queue, meaning that chairs are never sent up half empty – thereby reducing queue times.  Many Alpine resorts would definitely benefit from adopting this system!
The Skihytta area where we stayed is comprised of picturesque, ski-in, ski-out, 'hyttas' (chalets) surrounded by fir trees (one of the benefits of being below the tree-line) and glittering mounds of snow. As well as being able to ski directly down to it from the T1, T2, S1 or S4 lifts, the top of the area is perfectly linked with the cross country tracks.
When it came to cross-country skiing, to say we were somewhat out-classed by the Norwegians would be an understatement. However, after a day or two of practice, as long as you have a reasonable degree of fitness, cross country skiing becomes the prefect way to finish off a day of downhill skiing. There are two evenings of floodlight downhill skiing available a week but, if getting a bus back home from that doesn't appeal to you, the late sunsets also allow for several hours of cross country every evening after the lifts have shut.
The cross-country tracks suit a variety of levels, from steep and un-groomed to flat(ish) and maintained. However, the one I most recommend is the 12km groomed loop (tracks 3, 4 and 10) around the mountain – it not only provides two or three hours of stunning views but it's also easy enough for beginners and children.
We decided to self-cater to keep costs down, so our meals at the chalet were purchased from the large supermarkets at the bottom of the resort.  Lunch, however, on the slopes differed each day. There are an abundance of slope-side burger shacks in Trysil, most notably the usefully placed ones at Høgegga and Fjellroa. For a slightly more expensive lunch out, we booked into the private room at the Skihytt'a restaurant – coincidentally at the same time as a Norwegian wedding party – to sample some locally sourced moose and soup quite literally served in a loaf of bread!  It was delicious.
As far as Easter skiing goes, Trysil is almost unsurpassable in quality. The gorgeous scenery, easy access, excellent skiing and relatively deserted nature of the runs completely compensate for the smaller size of the resort. And, although Trysil is considerably more limited for extremely advanced skiiers than, say, the vast expanse of the Trois Vallées, there's no run in the Alps to match Trysil's (terrifying) piste 75 at a gradient of 45%…
Other related posts:
Why ski in Norway
Affordable skiing in Norway
Spend the night at the top of a ski jump
End of season celebrations in Norway
Other recent posts:
Snow+Rock shops sold
Don't just shove your end-of-season ski kit into the loft
Top season for British Ski and Snowboard athletes