Half-term in Le Grand Bornand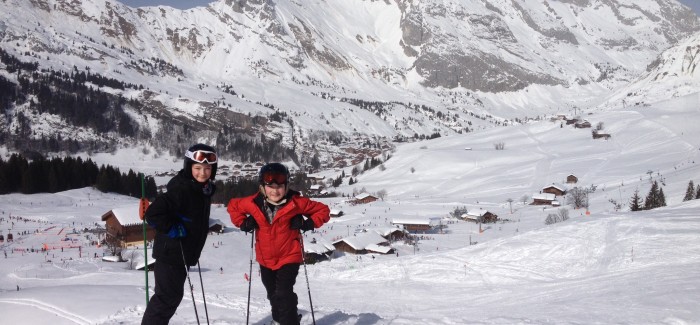 Here's the second in our series of half-term reports – written by kids for kids.  This one's on the French resort of Le Grand Bornand, by Sam Nutt, aged 12.
We drove out to Le Grand Bornand for the half term holiday and during our first night here we had over 50cms of fresh snow.  So right now there is some really good snow and good snow means good skiing!
We are staying in a small apartment in Chinaillon, the higher part of the resort. It's a bit too far to walk to the lifts but there is a free bus and we can use our car to drive there in the morning. Usually we start in one of the bowls above Chinaillon where you can take a relaxing blue run down or choose one of the reds. You can take one of the chair lifts up to the top and then you can ski down in to the bowl where the snow park is or go down the other side to the area above the old village of Le Grand Bornand.
At lunchtime you can go to the picnic room at the top of the Le Rosay gondola to eat your home made sandwiches or go to a little mountain restaurant (there are loads) to have a lovely crepe or a HUGE hot chocolate with cream.
After lunch we like to find our way over to the snow park where you can go down different graded jumps and grinds. They even have a ramp with a big inflatable trampoline to practise big jumps.  You might get to see the local young ski team practising their freestyle ski skills and doing slalom. From the snow park you can take the button lift up to the boarder cross were you can rocket down a big wiggly slope.
From the snow park you can ski down to the chair lift or take the green run to the little starter course for beginners. A lovely relaxing run takes you to the bottom and at the end of the day you can leave your skis at the ski hire shop at the foot of the slopes which is really handy.
In the evening you can go out for a meal in a local restaurant but as we are staying in a cosy little apartment Daddy cooks us a nice meal every night. But only after we've played in the snow with some French children we've made friends with.
We've had a great time in Le Grand Bornand and I'd love to come back here again!
Click HERE to see our first kid's half-term report – on the French resort of Montgenevre.
Visit us again soon to see more kids' half-term reports – from Switzerland, Austria and Norway.
If your child would like to write a resort review for us, please send a short piece (maximum 300 words) plus one or two JPEG images to our content editor, teresa.fisher@virgin.net