Free Ski Show tickets
The London Ski & Snowboard Show is back this half-term in Battersea Park (from 27-30 October), to mark the start of the ski season.  And, once again, FamilySkiNews are giving away a handful of free tickets to our readers.
This year's show is packed full of exciting activities and events to appeal to families young and old (as we reported in an earlier story HERE).  So, as the snow falls in the Alps and the mountains return to the capital, read on to win some tickets to the London Ski & Snowboard Show, London's go-to event this season.    
We'll be drawing winners' names out of a hat next Monday 24 October – and you can even choose which day you'd like to attend (we will contact you via social media, see below for how to enter).
We're delighted that the show has been returned to its usual 'half-term' slot, to give everyone a chance to enjoy the snow-themed fun and games, which range from ice-skating to snowboard-stunt demos; and from Altitude Comedy Festival acts to avalanche safety talks; not to mention the chance to meet Britain's Winter Olympians and to buy the very latest in ski and snowboard paraphernalia and some AMAZING ski holiday bargains.
HOW TO WIN:
To win a pair of tickets (worth £40 plus free 6-month subscription to Telegraph Ski and Snowboard magazine), all you have to do is:
1)  like us on Facebook AND share one of our Ski & Snowboard Show post HERE
or
2) follow us on Twitter AND retweet one of our Ski & Snowboard Show tweets HERE.
Your name will then go into a draw and if you are successful you just collect your tickets from the front desk. We will contact entrants to let them know whether they have been successful or not by Monday.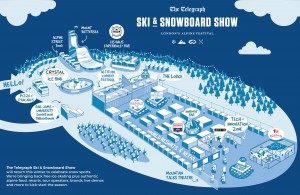 SHOW TIMES:
Thursday 27 October  11am-7pm
Friday 28 October       10am-10pm
Saturday 29 October   10am-8pm
Sunday 30 October     10am-5pm
So what are you waiting for?…. clear your diary, and enter our competition right now!
To book further tickets or find out more about the show, and special events of 2016, check out our feature 'Twelve reasons to bring your family to the London Ski Show'  HERE.  To book further tickets, head to the show's website HERE.  skiandsnowboard.co.uk