Twelve reasons to bring the family to the London Ski Show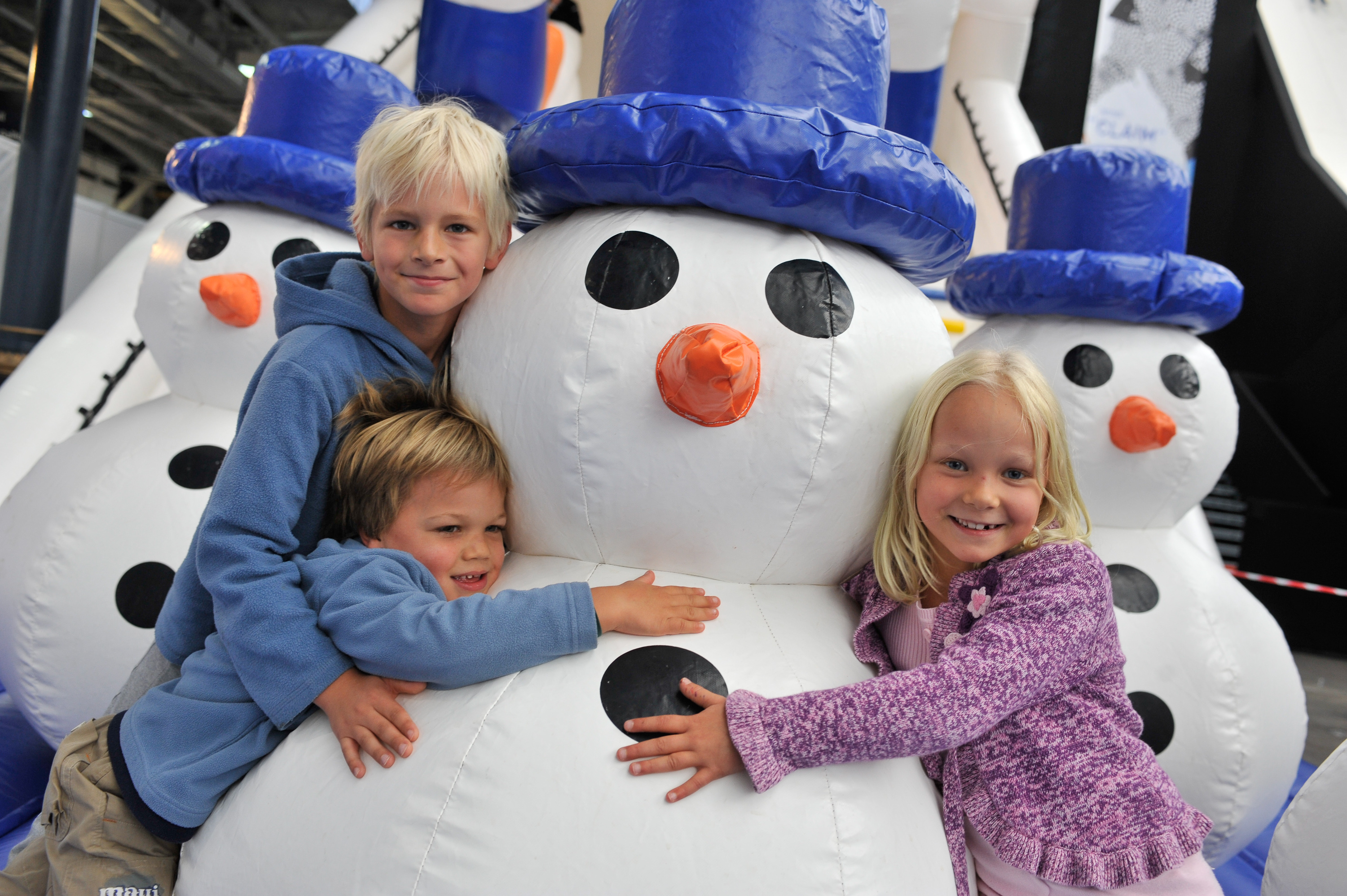 We're delighted that The Telegraph Ski & Snowboard Show is returning this October to Battersea Park at half-term. Last year's show took place there for the first time and the venue was a big hit with FamilySkiNews readers.
We're also pleased that the show has reverted back to its old-favourite-half-term dates again this year and, with plenty of child-focused activities and events, it promises to be a bumper show.
Here are just 12 reasons why you should bring your family along:
1 The Gear Genius Bar:  Snow sport retailer Snow + Rock will be offering show visitors free, expert advice this year, to ensure you pick up the very best kit for your needs.  Whether a complete beginner or a seasoned pro, their experts will ensure you have the knowledge to choose the kit that will compliment your skiing or snowboarding.
2 The Tech+ Innovation Area:  Come and discover the latest products for 2016/17 and, in particularl, you can exclusively preview action sports game STEEP, which is coming to PS4, Xbox One and PC in December 2016.  Show visitors will be able to exclusively preview the game, pull off epic stunts and share rides with friends in the STEEP interactive gaming zone!
Here's a taster of Steep:
3 Eis Haus Experience & Lounge: Be among the first to see the EIS HAUS Experience, the ultimate pop-up ice lounge & real ice bar only at this year's Telegraph Ski & Snowboard Show.  The launch will see EIS HAUS premiere in London before hitting the slopes of Europe through 2017.
4 University Downtown Throwdown & Rail Jam: The show has teamed up with Jibworx & Wasteland Ski to bring the final of their University tour – Downtown Throwdown to the show on Saturday. Fresh from touring the UK's best uni ski clubs, the top athletes from each heat will be sending it, down the rail in a live final. Also, throughout the weekend, the guys will be hosting rail jams and delivering an apres party vibe.
5 Mount Battersea: Marvel at the trips on the real-snow kicker, hosting live pro-rider stunt demos as well as international competitions The BRITS and The London Ride.
6 Mountain Talks Theatre: The ever popular Mountain Talks Theatre has an impressive line up of experts and athletes from across winter-sports. The ideal way to pick up insider tips from leading experts, learn how to stay safe on the slopes and meet Olympic athletes!  The schedule is here: http://london.skiandsnowboard.co.uk/attractions/mountain-talks-theatre
7 Travel Genius Bar: Whether you're a novice skier looking to explore the mountains for the first time, a family with young children unsure of the practicalities of a winter-sports holiday or a group of seasoned powder hounds keen to try something new, take advantage of the team of experts (who between them have travelled the world skiing, snowboarding and discovering the best the mountains have to offer) for free, impartial advice to find your perfect holiday and to help you get the most out of your season. The team will share their insider knowledge with you at our Travel Genius Bar in a one-to-one appointment, or you can simply walk up.
8 Altitude Comedy Festival: After the huge success of last yea, the Altitude Comedy Festival is back with its unique blend of snow, laughs and stand up.  Top acts include Live at the Apollo's Marcus Brigstocke, and Andrew Maxwell, rising stars and blistering cabaret.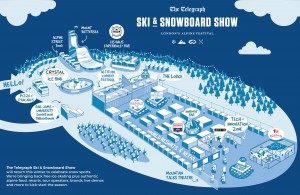 9 Ice Skating: Channel your inner Torvill & Dean and have some fun on the ice rink.  Whether you're a complete amateur or a seasoned pro, strap on a pair of skates and glide around our winter escape. There'll even be skating penguins to help little ones around the rink.
10 Authentic Alpine Street Food: Forget traditional luke-warm festival beers and lacklustre hot dogs!  You'll find rich tartiflettes, piping hot crepes, juicy alpine burgers and cold, crisp beers at the alpine street food area to tantalise your taste buds.  Check out the menu here: http://london.skiandsnowboard.co.uk/attractions/authentic-alpine-street-food
11 Kidzania London & Kids Corner: It's easy to keep your children occupied at the show with all the kiddy-friendly activities which include role-play adventures, magic shows, face painting plus a number of Halloween trick and treating and games.
12 Meet Santa at the Show: Saving the best till last… Santa will be on the 'Norway Home of Skiing' stand daily from 12 noon till 2pm at the Kids' Corner Cafe.   So don't miss out on your chance to meet the main man to  ask for everything you want for Christmas whether that be a shiny new pair of skis or a trip to Norway!
Free ski show tickets to give away
We have a pair of free tickets to give away for The Telegraph Ski & Snowboard Show, which is taking place at Battersea Park over half-term and just before Halloween, from 27-30 October. With loads of fun child-oriented activities, it promises to be an entertaining après experience for the whole family.
Bring the mountains to the city
More details: www.skiandsnowboard.co.uk
The London Ski and Snowboard Show is back in London this half-term, and packed full of exciting activities and events to appeal to families young and old (as we reported in an earlier story HERE).  As the snow falls in the Alps, and the mountains return to the capital, it's definitely London's go-to event this season.  
Here at FamilySkiNews, we have a handful of free tickets to give away to readers for the London Ski & Snowboard Show at London's Battersea Park (from 27-30 October). We'll be drawing winners' names out of a hat next Monday – and you can even choose which day you'd like to attend.
We're delighted that the show has been returned to its usual 'half-term' slot, to give everyone a chance to enjoy the snow-themed fun and games, which range from ice-skating to snowboard-stunt demos; and from Altitude Comedy Festival acts to avalanche safety talks; not to mention the chance to meet Britain's Winter Olympians and to buy the very latest in ski and snowboard paraphernalia and some AMAZING ski holiday bargains.
To win a pair of tickets (worth £40 plus free 6-month subscription to Telegraph Ski and Snowboard magazine), all you have to do is: 1)  like us on Facebook AND share one of our Ski & Snowboard Show post HERE  or 2) follow us on Twitter AND retweet one of our Ski & Snowboard Show tweets HERE.   Your name will then go into a draw and if you are successful you just collect your tickets from the front desk. We will contact entrants to let them know whether they have been successful or not by Monday.
Show times are as follows: Thursday 27 October 11am-7pm Friday 28 October      10am-10pm Saturday 29 October   10am-8pm Sunday 30 October     10am-5pm
What are you waiting for?…. clear your diary, and enter our competition right now.
To book further tickets or find out mobre about the show, check out their website by clicking HERE. skiandsnowboard.co.uk