Family ski holiday prices drop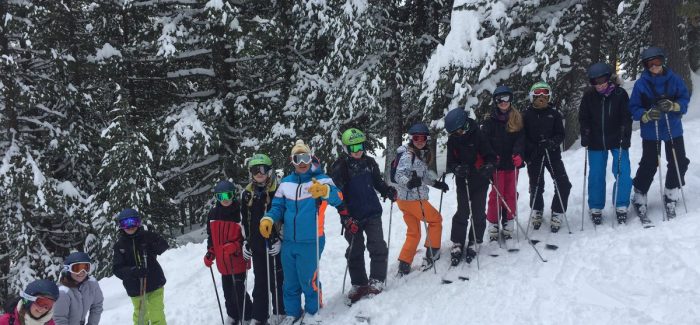 Good news! Falling prices in resorts across Europe mean families planning a ski holiday can expect their pounds to stretch further than a year ago.  A new report comparing in-resort costs claims family ski holidays are better value this winter.  Two-thirds of the resorts analysed show prices sliding downhill compared with last ski season. 
The annual report – The Post Office Family Ski Resort Report – is produced by Crystal Ski (the UK's leading ski holiday specialist and one of our partners here at FamilySkiNews.com) in association with Post Office Travel Money.  It analyses 16 European resorts which are regarded as especially suitable for family skiing.
The report compares the mid-season costs of six days' entry level ski and boot hire, lift pass prices and ski school, together with a typical cost for lunch on the slopes (two courses, main course and dessert) and a range of drinks for two adults and two children.  It is traditionally published in mid-December, just as schools break up and families start heading for the slopes. All prices are based on the Post Office exchange rates of 7 December 2017.
This year's report brings good news – prices have fallen in two-thirds of the resorts surveyed.
Of the 16 destinations recommended for family ski trips, the Bulgarian resort of Bansko has regained its position as the cheapest family ski resort (£1,086).
For the two previous seasons, the cheapest resort (of the handful surveyed) has been Kranjska Gora in Slovenia, which this year was priced at £1,120), having registered a 4.2% price rise.  Although prices for ski school in Kranjska Gora have fallen by almost nine per cent, the increased cost of lift passes and equipment hire has made the resort more expensive for families than a year ago.
By contrast, prices in Bansko are down over six per cent on last season's levels – mostly because of more reasonably priced ski tuition – and the cost of skiing in the Bulgarian resort is under half that in Wengen.  It therefore appears that, once again, Eastern Europe remains best value for family ski holidays.
Bardonecchia in Italy is a new kid on the block, as far as this survey is concerned, and it's gone straight to the top as the best-value resort in Western Europe at £1, 171 (approximately half the cost of Wengen in Switzerland – the  most expensive of those resorts surveyed).  It boasts the cheapest family ski pass (392) of all resorts surveyed.
"Bardonecchia is particularly suitable for families with younger children because there are kindergartens, play areas and ski school classes for the very young," said the MD of Crystal Ski, Chris Logan. "It also boasts a snow tubing track that has been specially designed with families in mind.  When you add these facilities to the great value for money revealed in this year's Family Ski Resort Report, Bardonecchia looks a real winner."
By contrast, other Italian resorts surveyed registered price rises – largely because the sterling exchange rate against the Euro is weaker than 12 months ago.  Local prices remain roughly on par with a year ago, and the price rises occur once Euro prices are converted to sterling.
Prices are down in all three French resorts surveyed – 8.4% in Les Deux Alpes (£1,655), 7.1% in Morzine (£1,474) and 5.6% in Serre Chevalier (£1,652).
But the biggest drop in prices has been in Saas Fee in Switzerland – 10% cheaper than last year, as lower resort costs have combined with a strengthening of the pound against the Swiss franc.  Overall, however, Swiss resorts remain expensive for families overall – of the resorts surveyed, Saas Fee (£2,065) and Wengen (£2,298) remain the most expensive on the list.
Andrew Brown of Post Office Travel Money (which accounts for one-in-four UK currency transactions) said: "Last year's fall in the value of sterling resulted in far higher costs for families in many European resorts so it is good to be able to report that the position has now stabilised.  Sterling may still be three per cent weaker than a year ago but competitive pricing for ski essentials and other living costs means families will get a better deal in most resorts.  
"Just how much better off families will be depends on the ski resort they choose and the costs they expect to incur.  When you are budgeting for children as well as yourself, price variations between resorts can be significant. Choosing a cheaper resort could save hundreds of pounds so we advise families to do some homework and book a resort to fit their budget."
Below are the Post Office Travel Money Ski Resort Report tables for 2017 for you.  There are price falls in 10 of the 15 resorts previously surveyed (Bardonecchia is a new addition so cannot be compared).  These were as follows: Saas Fee -10.0%; Les Deux Alpes -8.4%;  Morzine            -7.1%; Bansko -6.3%; Serre Chevalier -5.6%; Wengen: -5.0%; Ruka -1.2%; Ellmau -0.5%; Soldeu -0.3%; Kitzbühel -0.2%.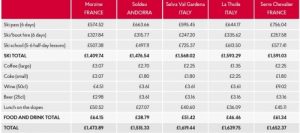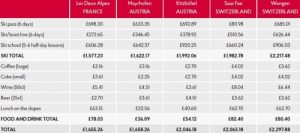 Further information: Skiers can purchase euros over the counter at more than 10,000 Post Office branches.  They can also be ordered online at postoffice.co.uk for same day 'click and collect' at almost 3,000 branches as well as next day collection at any branch or for home delivery. Swiss francs and Bulgarian lev are available immediately at over 1,600 branches or for pre-order in over 11,500 Post Office branches or online. A range of travel insurance policies suitable for ski trips are also available at Post Office branches or online at postoffice.co.uk.