Teenage fun in Beitostølen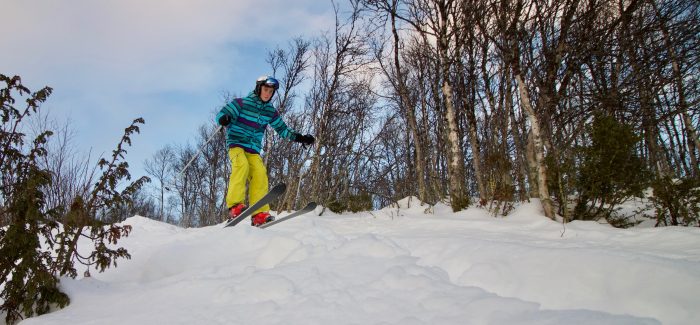 Our editor's son, Timothy, aged 14, has just completed his first solo assignment – skiing in Beitostølen in Norway – as the latest teen-ski correspondent to join the FamilySkiNews team.  Here's what he had to say:
It was the end of term.  Just before Christmas.  I had less than 24 hours to get home from boarding-school and packed for Norway.  My mum and brother were away skiing in Anzère, Switzerland. (You can read about their trip HERE).  My dad's not much good at packing so my mum had left me piles and piles of ski clothing all over my floor to select what I'd like to take… base layers, mid layers, top layers, gloves, glove inners… stuff from my dad's ski kit, from my brother's, from my mum's, from her friend's… mountains of ski kit.  So what did I do? I put it ALL in one big suitcase!
I was heading out to the tiny resort of Beitostølen in Norway for the second time.  I was really excited as we'd had such a brilliant time last time we went.  But now I was four years older and going out with one of my best mates and his family.  It was going to be fun.  We were staying full-board in a rather smart hotel – the Radisson, right beside the pistes – and we'd be flying home late on Christmas Eve.  A perfect start to the school hols.
Each day we literally had to tumble out of bed, tuck into a giant breakfast (full English, pancakes, breads, pancakes, cereal, fruit, yoghurt, etc), make ourselves a packed lunch (the hotel provided bags, etc) and hit the pistes.  The main lift was virtually outside the hotel door… less than a minute's walk away.
The skiing was amazing – there weren't many people about, so the slopes were empty.  We didn't have to queue for lifts at all, because the Norwegian school holidays hadn't started yet.  Oscar and I went out on our own, sometimes with his sister too.  The resort's so small, the ski area so safe, and the hotel so near, it was fine for us to go out alone, which was great.
The snow was excellent – really light and powdery.  Not many people had gone down the pistes so there were no slushy or lumpy bits or ice.  It snowed a couple of times  generally during the night.  The powder settled on top of the beautifully groomed pistes.  It was quite chilly though.  One day, however, it was 3 degrees and snow wasn't so good because it was so hot.
I was four years older than on my last visit to Beitostølen, so the resort seemed smaller than I remembered.  The only problem with the resort is that – now I ski quite fast – the runs are fairly short, and then you're straight back on the lift.  There are 3 chairs and one drag lift, with runs either side.
We made up for the last of variety but whizzing about off-piste.  There were plenty of safe and easy places to go through the trees.  It was really fun to create new paths and little jumps.  We especially loved skiing down the bike track (used in summer) through the trees – our friend and super-cool snowboarder, Bent (who works at the Radisson) took us down it, even though it's not an official piste.  Another day he took Oscar's dad to paraglide on a snowboard.
It got dark quite early as we were so far north so, after skiing, we went tobogganing on most nights on sledges that Bent had found for us at the back of the hotel reception, or built snowmen.  The hotel also had a big swimming pool, and there was also a sauna, Jacuzzi and gym next to the pool, and a cozy games room with sofas, a fire and a pool table in the basement.
Oscar's parents did some cross-country.  Of course, Norway is famous for its cross-country, and you can get the right gear (cross-country skis, poles and funny light-weight shoes) from the hire shop in town.  Everything is right there – easy access to everything.
We also skied at Raudalen – another ski area near Beitostølen.  There's a bus which whizzes backwards and forwards between the two areas.  On my last visit it only ran once a day.  Now it's more frequent.  Raudalen has some more challenging reds and even a couple of black runs.  It too was virtually deserted so it was nice to have the resort almost to ourselves.
But the highlight of the week for me was a trip to the top of the three-seater lift back in Beitostølen.  At the top you can turn right onto the normal piste or you can turn left down a red run (which was shut that day).  We hiked across the red run then off beyond into the off-piste area where we dug a hole about a foot deep in the snow.  Oscar's dad had bought a portable camping gas stove, so we melted some snow and made hot chocolate.  I'd never done anything quite like it before on a mountain.  It was such fun sitting in the snow altogether, looking out across the beautiful Norwegian landscape, while sipping from steaming mugs of hot chocolate.  Oh, yeah… and we might just have had a bit of a snowball fight there too!
PS  My father came and flew me home, but that's another story….
Images courtesy of @twoplustwocrew
If your child would like to write a resort review for us, please send a short piece (maximum 300 words) plus one or two JPEG images to our content editor, teresa.fisher@familyskinews.com 
Other related posts: 
Norway's crazy curling trousers are back
Where is Beitostølen?
Crystal Ski returns to Norway
Affordable skiing in Norway
Learn to Ski with Crystal in Norway
End of season celebrations in Norway
Let there be light
What are the Northern Lights?
World's largest winter sports week for disabled skiers 
Dog-sledding with an ex-Paralympian skier