X Games Tignes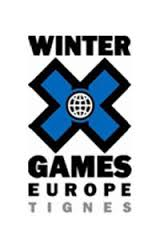 For all those free-style teenagers who are spending their Easter holidays at the local skatepark, here are the highlights of the 4th European Winter X Games in the French ski resort of Tignes last week.
This annual competition revolves around two key disciplines – the Superpipe and Slopestyle. 
Slopestyle – where skiers and snowboarders are judged on the tricks and freestyle manoeuvres they perform down a course filled with jumps, rails, hips, tabletops and boxes – will be a new event at the 2014 Winter Olympics in Sochi. 
Tigne's world-class U-shaped superpipe is 500ft long, 22ft deep and 60ft from lip to lip, with a pitch of 18 degrees.  These dimensions allow for maximum amplitude and speed. 
In both events, competitors are judged on their use of the superpipe/course, execution, amplitude, difficulty and landings.
With Sochi 2014 looming on the horizon, this year's event brought out the best of Winter Olympians, world champions and up-and-coming new riders – all pushing the boundaries of their sport with their tricks and aerial acrobatics.
Sadly, there were no Brits on the podium this year. Katie Summerhayes finished fourth in the ski slopestyle – a fantastic result given this time last year she was out of action with a cruciate knee injury and wondering if she'd ever ski again. 
James 'Woodsy' Woods, currently rated number one in the world in slopestyle, made a surprise exit from the Games, failing to qualify for the ski slopestyle final. The 21-year-old from Sheffield won bronze at the American X Games in Aspen in January. He nonetheless remains our top British gold-medal hopeful for Sochi.
One thing's for sure, the X Games are not for the faint-hearted:
Other related stories:
Woodsy is world number one
Exactly one year to Winter Olympics – what are Britain's medal chances?
FIS Ski Racing: the good news and the bad
New sponsor for British snowsports
Calshot Mountain Sports Festival
Sochi fashions – barking up the wrong tree?
Amy Williams appointed Olympic ambassador