World Snow Day 2013 report published
The long-awaited World Snow Day report is out.  Judging by its contents, the event was clearly a resounding success! 
The second annual World Snow Day took place on 20 January, as we reported in an earlier story here.  
Four hundred and thirty five organisers in thirty-nine countries from Austria to the Ukraine, from Switzerland to Japan, staged unique events that brought children and their families to­gether to celebrate all things snow in a friendly and fun environment.
Children and families enjoyed free or discount­ed ski and snowboard lessons, lift passes, ski equipment, as well as concerts, fun races, gifts and prizes, among many other things.
Over one hundred resorts offered free skiing and snowboarding. Events took place in cities, on high mountain peaks, and everywhere in between and ranged from small to enormous – aimed primarily at encouraging children aged 4-14 and their families to explore, experience and enjoy the fascination of snow and snow sports, with the slogan "Fun in the snow, fun on the snow".
The World Snow Day report has today been published, pooling all the information from all the various participating locations.   
Over 68% of participating venues offered free ski passes (a further 6% offered discounted passes); 33% offered free gifts and prizes; 26% offered free ski/snowboard lessons and 23% had free ski/snowboard use.  These were the most popular promotions.
But the success of this year's event is most immediately apparent in the huge rise in the number of participants. 
Last year's World Snow Day drew around 200,000, but this year's event attracted over 430,000.  There were also positive uptrends in the number and variety of events, the number of participating countries and venues, and social media reach.  You can read the full report in PDF format by clicking here.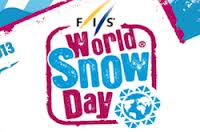 Gian Franco Kasper, President of the International Ski Federation (FIS) concluded his summary of the report with the following statement: "[World Snow Day] is a great platform for bringing children to the snow. We look forward to having an even greater number of children and their families participate in the 3rd edition of World Snow Day on 19th January 2014, to explore, enjoy and experience snow."

Other related posts:
World Snow Day
World Snow Day bringing children to the snow
World Snow Day – a massive success