World Snow Day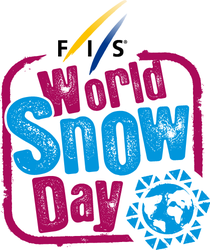 This coming Sunday is World Snow Day, an annual initiative started by the International Ski Federation (FIS) in 2007 to promote snow sports.  Their slogan – "Bring Children to the Snow" – is geared to encourage children and their families to enjoy, explore and experience all things snow. 
This year over 40 countries are participating in World Snow Day, each running a series of snow-themed events right across the globe from Australia to Armenia.  The bulk of the action is taking place in the Alps and in the resorts of the USA, but there are plenty of other activities in further-flung destinations too.  Here are just a few to whet your appetite:
Dubai: There's free skiing and World Snow Day racing for kids of all levels and ages at Dubai Ski Club (www.dubaiskiclub.com/). 
Australia: Ski City Melbourne (http://www.skicity.com.au/), Australia's only urban ski training centre, are running a series of special events and a chance to ski the 'longest run you'll ever experience'. 
Russia:  The ski resorts of Abzakovo and Magnitogorsk are staging various competitions and activities including children's alpine racing, tubing, night skiing and snow modelling.  Abzakovo even has a special children's slope and a baby lift.
Iceland: There's free skiing and free equipment hire for children 12 years and younger, with complimentary hot food and drinks at the end of the day in the following ski areas: Ska –Akureyri, Fjardarbyggð –Oddskard, Dalvík –Dalvik, Siglufjordur –Siglufjordur, Ármann -Blafjoll Reykjavik, Ir-Blafjoll Rreykjavik, Kr -Blafjoll Reykjavik, Fram -Blafjoll Reykjavik, Skis – Stafdulr, Tindastoll – Saudarkrokur, Vikingur-Blafjoll Reykjavik, Ullur -Blafjoll Reykjavik, Breidablik -Blafjoll Reykjavik and Isafjordur – Isafjordur.
South Africa: Skiers and snowboarders will be celebrating at the artificial ski slope (http://www.avalanche.co.za/) in johannesburg, with free bum boarding, skiing and snowboarding for the kids.  South Africa has just one ski resort (http://www.afriski.net/), in the highlands of Lesotho near Cape Town, where snow falls from early June to late August every year.  Here too there will be fun, games and taster lessons at the ski school, with children's mascot 'Pudi the mountain goat'.   It is a special time for the whole South African snow community as the nation's first black junior skier is participating in the inaugural Winter Junior Olympic Games this week too.   You can read FamilySkiNews.com's latest Olympic report here.  
Closer to home, in Scotland – Aviemore and Cairngorm mountain are hosting a series of ski races and music events in Aviemore and on Cairngorm. (www.cairngormmountain.com/) while, at the Nevis range (http://www.nevisrange.co.uk/), there's a World Snow Wear fancy dress competition, a World Snowman Competition, taster 'Learn to Ski' sessions and more.
Find out more about these and other events celebrating all things snow-related, at http://www.world-snow.day.com/, and check out the world's longest urban ski run (at Ski City Melbourne) here: