Vonn wins 4th World Cup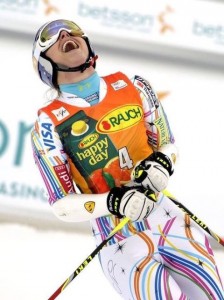 American Lindsey Vonn has won the 2012 Women's Alpine Skiing World Cup.  Her victory in the giant slalom race in Ǻre, Sweden today clinched the title – her fourth overall World Cup (following previous victories in 2008, 2009 and 2010).
She also won the downhill and super-combined World Cup titles earlier this season and is the favourite for the Super-G finals in Schladming, Austria, next week.  After her convincing win in Ǻre's GS race, Vonn remarked "I'm just thrilled. It's crazy, I could almost go on holiday in Schladming."
On Facebook, she added "Oh my gosh, I won the GS race today in Sweden!! I was also able to clinch the Overall World Cup title – what a day!!"
27-year-old Vonn is the first American skier ever to win four overall titles, making her the greatest Alpine skier in US history.  
Photo credit: Lindsey Vonn Facebook page