The Engadin Ski Marathon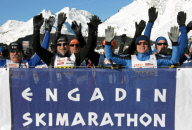 The Engadin Ski Marathon– the world's most famous cross-country ski race took place last Sunday in the canton of Graubunden in south eastern Switzerland.
This annual race is the nation's largest cross-country race – a 42km track across the frozen lakes, forests and snow-clad hills of the Engadin Valley.  It took place just one week after the prestigious Vasaloppet race – the Swedish marathon which caught the attention of the British press this year, due to the participation of Prince William's sister-in-law, Pippa Middleton (you can see FamilySkiNews.com's report on the Vasaloppet here.). 
The Engadine Marathon is considerably shorter than the Vasaloppet, and open to everyone.  This year's entrants came from 43 nations.  The majority were Swiss, but there was also skiers from countries as diverse as Japan and Greece.  139 Brits took part – but not Pippa Middleton this time! – and the oldest participant was 92 years old!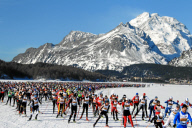 Perfect sunshine followed the racers all the way from the start on the frozen lake at Maloja, near St Moritz, to the finish in S-chanf.  The race was won – in a photo finish – by 21-year-old Swiss Roman Furger, one of the youngest winners in the race's 44-year history.
"It's unbelievable! I still haven't realised it!" he commented after the race.  "I really won the Engadin Skimarathon!! It's a dream since I was a child as the Engadin Skimarathon is THE race for a Suisse to win, that's for sure…. I am just so happy!"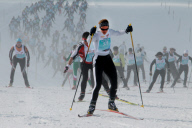 The winners were presented with ibex antlers, a silver cup and a cheque by Barbara Janom Steiner, president of the cantonal government who remarked "I'm proud to have this race in the Graubunden, and proud that in its history we've had nearly half a million happy finishers".   
You can see the course of the marathon along the Engadin Valley here:
Photo credits: All images copyright swiss-image.ch.