Lindsey Vonn – a boot-level perspective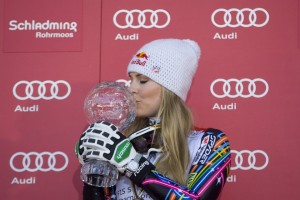 The last downhill race of the season for the ladies on the World Cup circuit took place in warm, sunny conditions in Schladming in Austria today. 
And surprise, surprise… it was won by Lindsey Vonn – her 12th victory of the season.  She commented on her Facebook page: "Today was the last downhill of the season and it went really well, I won! The US women's team is the best DH team in the world this season-congrats ladies!
Vonn already has her 4th overall World Cup title in the bag this season, as FamilySkiNews.com reported here.  With one super-G and one GS race left, Vonn is also within reach of the 2,000-point record for one single season, achieved by Austria's Hermann Maier in 2000.  she currently has 1,908 points.
To celebrate her latest victory, and for an excellent close-up on carving technique, here's a rare and thrilling boot-level perspective of a Vonn downhill training run in St Moritz earlier in the season.  Hold on tight!…  
Untitled from lindsey vonn on Vimeo.
Photo credit: Lindsey Vonn Facebook page