Switzerland paints the town red for Swiss National Day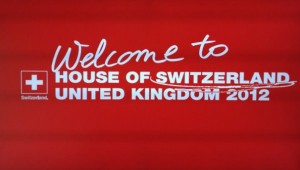 Tomorrow is Swiss National Day and the 100th anniversary of completion of the Jungfrau Railway.  To celebrate, the Swiss are putting on a massive party at the House of Switzerland in the heart of London and it's open to the public. 
The House of Switzerland is a veritable mini-village of red, created in and around the famous Glaziers Hall on the south bank of the Thames near London Bridge.  It is open to the public throughout the Olympic Games and offers its visitors a taste of the finest in Swiss culture, cuisine and creativity.  In essence, the House of Switzerland is a massive guest centre – a creative and innovative playground for all things Swiss!  Here's a quick guide to what you can find there:
Celebrations tomorrow for Swiss National Day start at 11.30am with musicians playing traditional Swiss music, and fun and games at the Kids Corner (12.00-5.00pm).  At 12.30pm, there will be a presentation on the history of the Jungfrau Railway, followed by various railway-themed games and activities, some including Sherlock Holmes! 
In the afternoon, there's a host of fun activities to appeal to kids  young and old – swiss wrestling (at 3.30pm), an alphorn performance (at 4.30pm), a drawing competition (at 4.45pm) and story telling for the kids with Diccon Bewes, author of the book Swiss Watching (at 5.00). 
The day climaxes with a live broadcast from atop the Jungfraujoch – "the Top of Europe" – at 5.30pm!  
The House of Switzerland – nicknamed 'The Red Zone' is also the main hub for Swiss activities during the Games and will also play host to the Swiss Olympic team, as well as their sponsors and partners. There's an extensive range of festivities planned, as well as medal celebrations to honour the success of the Swiss athletes.  Remember to take your autograph book along – you may just bump into Roger Federer!
Swiss chef Philipp Mosimann (of the renowned Mosimann's Club) is serving up playful fusions of Swiss, Bernese and British specialities for a flavour of modern Switzerland, in a choice of three eateries at the Red Zone: the sophisticated Mossimann basserie, the traditional cosy Bernese chalet and a take-away Rösticceria, while the sophisticated indoor bar serves Swiss cocktails.  There's even a Swiss games lounge, where you and your family can try your hand at the very best in Swiss computer games.
The House of Switzerland is open daily to the public throughout the Olympics from 9am-11pm until 12 August, with a programme of Swiss-themed activities, including puppet show workshops and displays by Swiss street artists.  At the outside games arena, you can 'climb a mountain' at the climbing wall, eat lots of chocolate, experience both traditional and lesser-known Swiss sports, and enjoy Swiss music and cultural shows on the open-air stage.
For further details of what's on when, click here.