Ski with the Easter Bunny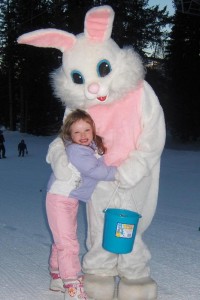 It's always fun to spot the bunny out on the ski slopes at Easter, and the kids love being rewarded with brightly-coloured eggs and sweets.  So – as resorts around North America and the Alps make final preparations for the Easter holidays – we have done a round-up of some of the best Easter bunny hotspots:   
In Canada, the Easter Bunny's making his annual grand appearance at Banff's Lake Louise Ski Area from 29-31 March, with his basket brimming with chocolate eggs.    
He's also hopping into the Colorado Rockies – to Winter Park Resort.  On 4 April, Winter Park is staging its 36th annual Golden Bunny Fun Race for children aged 10 and under.  Registration will take place from 8.30-11am at Guest Services in the Balcony House (each child must be pre-registered before 11am).  Children need a valid lift ticket to access the race course.  The untimed race takes place from 12.15-1.30, starting at the top of Lower Village Way Trail – racers may take as many runs as they wish until the course closes at 1.30pm.  (For further details on how to enter, call the Guest Information Hotline on 970.726.1564.)
Winter Park Willie is organizing the on-mountain candy hunt in Discovery Park (all skiing candy hunters need to assemble at the Porcupine & Bobcat Trails at 11.45 – you need ski kit and a valid lift ticket to access the hunt).  There is also a base area egg hunt for children under 5 – meet up with the Easter Bunny in the Zephyr Plaza near the Slopeside Mountain Adventure Center at 11.45 to start the hunt.  Each hunt commences at midday!
At Oregon's Mt Bachelor, there are two 'Easter Egg Scatters' at West Village – at 10.15 on the slopes for ages 6+ (on Home Run beneath Sunshine Accelerator lift); and at 10.45 for ages 5 and under, in the Snowsports Learning Area in front of West Village Lodge. 
California's Mammoth Mountain is jam-packed with egg hunts over the weekend of 7-8 April, crafts and other Easter-themed activities at Main Lodge and Canyon Lodge.  Events include Woolly's Scavenger Hunt, searching for Easter eggs all over the mountain (8.30-3 on 7 April and from noon on 8 April); helmet and ski-pole decorating (10am-2pm both days); some après-ski egg-cellent Easter-themed crafts (in the Lobby of Mammoth Mountain Inn, Juniper Springs and The Village Lodge at 4pm on 7 April; and at Canyon Lodge and Main Lodge on 8 April from 11am-3pm). 
On 8 April, there is also a traditional Easter Sunday Brunch at Mountainside Grill (from 7am-1pm) – where mum and dad can enjoy a peaceful meal while kids decorate and devour their creations at a special pancake-decorating table!  (Advance reservation is recommended: call 760.934.0601) 
Across the pond, the Alps are also hosting a number of Easter egg-stravaganzas.  In Switzerland, Elsigenalp near Adelboden is staging an "Easter Bunny" ski jumping challenge on Easter Sunday.  In this competition, the winners won't receive a medal – they will be presented with a delicious chocolate bunny and eggs.  There is also a traditional family "his & hers" giant slalom on Elsigenalp, where the times of the doubles teams (adults and children) are all added together.
In Austria, the special Ski Amadé Easter Family Special deal is already up and running until the end of the season: if you buy an adult 6-day Ski Card, your kids under 15 (born in or after 1997)  ski free of charge. 
The Easter Family Festival on Mt Planai is featuring all kinds of kids entertainment from facepainting and watercolour painting to Easter egg hunts and a huge balloon festival!  The Ski Amadé festivities reach their climax on 27 March at the Shuttleberg, with lots of bunnies on skis plus a massive easter egg hunt on the mountain.
Closer to home, in the UK, the Easter Bunny is hosting a series of 2-day kids camps for 8-13 year olds at Reading's Skiplex indoor ski slope.  Sessions last 3 hours and run over two days (mornings or afternoons) from 1-2 April, 4-5 April and 10-11 April – that's a total of 6 hours for £120pp.  The course includes an hour of skiing or boarding, an hour of video analysis, games and an Easter egg hunt with the Easter Bunny, and a third hour refining technique and competing with fellow skiers/boarders.  Phone 0118 997 7790 to reserve a place (subject to availability).
The Gloucester Ski and Snowboard Centre also has an Easter Bunny offer…. if you can find the Easter Bunny hidden on their website, you are entitled to a free one hour recreational ski/snowboard at their centre.   All you have to do is quote its location to the team at reception, in order to redeem your free hour!