Ski bargain holidays to France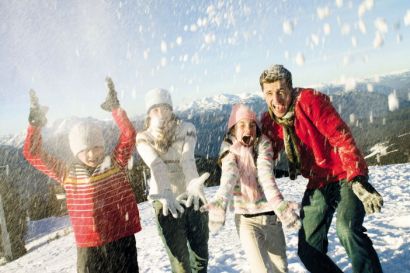 Skiing conditions across the French Alps are almost perfect at the moment.  FamilySkiNews.com is currently in the small, ultra-family-friendly French resort of Montgenèvre, enjoying the amazing blue-sky skiing, sensational snow conditions and, at long last, milder weather.  
Given these perfect conditions, and the booming sales reported by tour operators, we were surprised to find these bargain ski deals to France for this weekend and the next few weeks:
My Mountain Chalets still have a few rooms available in their two fully-catered chalets for £50pp per night (under 16s stay for 80% of the adult price; under 5yrs go free). 
February 19-25: availability for 6. 
March 3-10: availability for 6 + 6.
March 10-17: availability for 2.
March 18-24: availability for 4
Esprit Ski have spaces in Les Arcs from £1759 (family of 4) and Plagne-Peisey from £1699 (family of 5), both departing 4 March; and in Méribel from £1899 (family of 4), departing 11 March.
One of our partners, Crystal is offering three massive bargains, all departing TONIGHT on the overnight Eurostar: to Grand Chalet self-catering studios in Brides les Bains (£169pp,based on 4 sharing, saving £310pp); half-board to Hotel Les Melezes, Paradiski (£495pp, based on 2 sharing, saving £444pp); and half-board in the Hotel du Golf in Courchevel (£529, based on 2 sharing, saving £120pp).
For those able to depart tomorrow – 18 February, Alpine Answers – another FamilySkiNews.com partner – is offering accommodation in Chalet Bouquetin in Les Arcs for £399pp (availability for 5, a saving of £390pp) with flights out of Gatwick or Manchester; in Chalet Christina in La Plagne for £495pp (availability for 16, a saving of £435pp) with flights out of London, Manchester, Birmingham and Glasgow; and in Chalet Emeralde, La Tania with good sized family rooms for £399pp (a saving of £400pp), with flights out of Gatwick and Manchester.  Complete our Alpine Answers booking form for more information by clicking here.
La Source is offering self-catering apartments at knock-down prices in the small French resort of Les Coches for late February and March, all situated a stone's throw from the slopes of the vast Paradiski ski area– prices quoted are for accommodation, but this does not include any travel:
Week commencing 25 Feb: Le Zig Zag studio, £425 (sleeps 2-4/5).
Week commencing 4 March: Chalet Chocolate Box, €1550 (sleeps 6-8).
Week commencing 10 March: Le Domino, £475 (sleeps 4-6).
Week commencing 17 March: Le Chantelouvre, £350 (sleeps 2-4); Les Askas, £575 (sleeps 4-6);La Baie, £575 (sleeps 4-6/7); and La Clairiere, £575 (sleeps 4-6/7 people). 
Week commencing 24 March: Le Coudrai, £575 (sleeps 4-6/7); La Baie, £575 (sleeps 4-6/7); Chalet Chocolate Box, €995 (sleeps 6-8); La Clairiere, £575 (sleeps 4-6/7); Arpelles, £759 (sleeps 6); and Le Boulier, £759 (sleeps 6).
Hurry up and book now, as all these prices and offers are subject to availability and change. And don't forget to use FamilySkiNews.com's special SkiSet link to hire your skis/boards, helmets and boots – it will give you a massive saving of 45% off hire of all ski and boarding equipment.