Saas Fee's Season End Après Ski Parade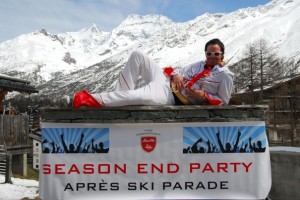 The Season End Après Ski Parade takes place in Saas Fee this Saturday. 
It marks the climax of a busy fortnight in the Swiss resort. 
On 12-13 April, around a thousand adventure and adrenaline junkies from all over Europe competed in the 31st annual Allalin Races – the highest and, at 9 kilometres, also the longest glacier downhill races in the world.  There were races for both serious racers and also some fun fancy dress classes too.
Then from 14-17 April, the 48th International Youth Cup took place in Saas-Fee, run by the Skiclub Allalin.  from 14-17 April.  It's the tenth time that Saas-Fee has hosted this event for young skiers from across Europe.  The last event here was in 2008.  
This weekend, the 9th 'Style Session' is taking place: a friendly freestyle competition between boarders and free skiers, ensuring some top tricks and dazzling jumping displays for spectators, climaxing in the so-called "Crew Battle". 
Also tomorrow (Saturday 20 April), the resort will come alive once more with frivolity, music and partying at the second-ever Season End Après Ski Parade.   
Following on from the huge success of last year's debut parade, the festivites will be taking place from noon until 9pm in the streets and various venues across the resort, including the Ski-Hütte Burgener, Restaurant Boccalino, Black-Bull Snowbar, Glaciersport, Hotel Bristol, Restaurant Zur Mühle and Hotel Mistral.  There's even a dance contest for the group (3-6 people) which presents thes most unique dance style and the most original outfits on the Party-Mobile.  If you want to enter, you need to register at the Hotel Bristol first. 
In case you want to ski or board as well as party(!), the slopes are open on Saturday and Sunday too.
Here are some images from last year's party to get you in the mood: