New ski flights announced from UK regional airports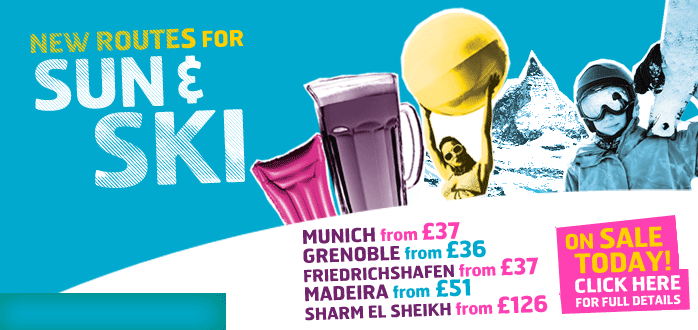 Monarch Airlines has just announced its first ever scheduled ski programme.  It is launching ten new ski routes for winter 2012/13, including scheduled flights from Leeds Bradford International Airport for the very first time. 
The new routes will complement the airline's existing services to Milan, Venice and Verona, and will provide easy access to some of Europe's best ski resorts – via Grenoble airport in France, and Friedrichshafen and Munich airports in Germany. Each of these airports already has excellent links to the resorts.
Kevin George, Managing Director of Monarch Airlines, commented: "The launch of these routes for winter 2012/13 marks an exciting new era for Monarch as we introduce our first programme of scheduled ski flights and target a new customer base of skiers looking to fly to Grenoble, Friedrichshafen and Munich, as well as via our numerous Italian destinations."
Monarch is the UK's longest established airline, founded in 1967. Last year it carried 5.9 million passengers. Its new scheduled ski flights for Winter 2012/13 are as follows:
London Gatwick
Friedrichshafen – 4 x flights per week
London Luton
Munich – 4 x flights per week
Manchester
Friedrichshafen – 2 x flights per week
Grenoble – 3 x flights per week Munich – 4 x flights per week
Birmingham
Grenoble – 3 x flights per week
Munich – 4 x flights per week
Leeds Bradford
Grenoble – 3 x flights per week
Munich – 2 x flights per week
The routes will launch at different stages over the autumn/winter period with Munich flights launching from mid September. The Grenoble and Friedrichshafen routes will launch mid-December and will run until early April 2013, ending with the Easter holidays.  They are already on sale from as little as £36.
Monarch has also recently announced its expansion in the Midlands, following the demise of the East Midlands Airport-based airline bmiBaby, which will cease trading in September. Monarch is adding additional frequencies and routes from Birmingham Airport and is opening a new base at East Midlands Airport from late summer. Indeed, this Friday (18 May), Monarch will put on sale a whole cluster of routes previously flown by bmiBaby.
Images: from Monarch Facebook page and monarch.co.uk.