Celebrity chef at LISTEX ski trade show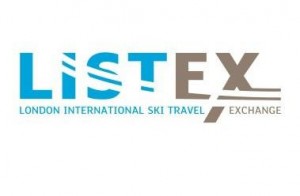 This week FamilySkiNews attended the first ever LISTEX (London International Ski Travel Exchange) – a two-day business-to-business trade event specifically for the UK snowsports market, which took place on the banks of the River Thames at the London Rowing Club in Putney – a kind of 'speed dating for the ski trade'!   
Key players included Tour Operators Tui Ski, Ski Solutions, Scott Dunn, Powder Byrne and the Ski Club of Great Britain. 
Resorts present included Les 3 Vallées, Telluride, Tignes, Méribel and Les Deux Alpes… and a highlight today was a delicious Aosta Valley tribute lunch, prepared by celebrity chef, Valentine Warner.
For FamilySkiNews, it was an excellent networking event.  We also attended some of the ski forums, which included sustainability in skiing and travel technology. 
The Ski Club of Great Britain presented their Annual Snowsports Analysis at LISTEX in conjunction with Snowsport England. 
It raised some interesting statistics:
–         that although the 2011/12 season showed a decline in bookings for the 4th year in a row, it was the smallest percentage drop in the last 7 seasons (of just 1.5% compared with a decline of 12% the previous season).  This was put down mainly to the ongoing economic uncertainty, combined with more favourable holiday dates and good snow conditions in Europe boosting end-of-season statistics.  
–         that the average cost of a skiing/boarding holiday has continued to increase (from £714 in the 2009/10 season and £717 in 2010/11) to £729 in 2011/12 (excluding lift pass, equipment hire and ski school). 
–         that catered chalets and hotels grew in percentage share by 2% for the 2011/12 season, while self-catering chalets saw a 1% drop in market share.    
–         that weekend ski breaks were up 2% on the previous season
–         that Eurostar reported 4,000 extra passengers last season, and has improved its service by adding more ski trains.
–         that Austria showed a 2% year-on-year growth and Italy 1%, while North America showed a 1% decline (largely due to the relative expense of travelling trans-Atlantic, plus poor snow conditions last season) and Switzerland 2% (due mainly to the poor exchange rate and the resulting higher costs).
The mood was generally upbeat at LISTEX regarding the forthcoming season: bookings are looking healthy, and already well-sold for Christmas and New Year; there's plenty of snow already (although this is unlikely to remain); sterling is improving against the Euro; and the excellent snow of last season is likely to inspire people to book this year. 
Tour operators are responding to the market needs and continuing to add value, through an increased number of all-inclusive packages and special deals on lift passes and ski hire, in an attempt to keep skiing affordable.     
Tomorrow, we're off to the Ski & Snowboard Show at Earls Court in London for some more ski news and action!  If you're coming to the show too, do look out for us and come and say 'hello'!