Lindsey Vonn – Ski Girls Rock
A lucky group of four girls from the "Ski Girls Rock" ski school in Vail had the chance to ski with their hero, Lindsey Vonn when the Olympic gold medallist and World Cup Alpine Ski Champion returned to Vail for her homecoming celebration last week.   
It's the end of a hugely successful first season for "Ski Girls Rock" – a new ski school at Vail Mountain designed by Vonn exclusively for girls aged 5-15, which she launched in late December 2011.
Lindsey has developed the product based on her own experience as a young skier and interactions with female role models who inspired her both on and off the slopes to become one of the greatest skiers ever.
Kids joining on the "Ski Girls Rock" lesson scheme have a maximum of four students per group, with dedicated female instructors who have all been coached by Lindsey.  The focus is not just on improving skiing skills, but also on empowering girls through the sport, with plenty of chance to bond and develop confidence whilst building teamwork and friendships.
"I've always firmly believed that sports build teamwork skills, self-confidence, and really develop a sense of empowerment," Vonn remarked at the launch. "Ski Girls Rock is a great way for me to inspire other girls to realize their potential through a talented group of Vail ski instructors who share the same passion I do."
 
"Ski Girls Rock" has run throughout the 2011/12 season during select weeks and has proven a runaway success.  Each girl who participates in a "Ski Girls Rock" lesson will receive a complimentary Under Armour "Ski Girls Rock" hat.  
The final weekend of this season's programme coincided with Vonn's public homecoming celebration at Arrabelle Square in Lionshead, when four lucky "Ski Girls Rock" participants were selected at random to meet and ski with Lindsey.  
After the event, Vonn posted the following on her Facebook page: "Had such a blast skiing in Vail with the girls from my "Ski Girls Rock" ski school program.  The kids were SO cute! Also, a big thanks to @vailmtn for the amazing homecoming celebration, it's great to be back!"
Prices for next year's Ski Girls Rock lessons have not yet been confirmed; this year the scheme cost $279 per child for a full day including a lift ticket and lunch, or $260 for the lesson only. "Ski Girls Rock" is currently offered only through the Lionshead Ski & Snowboard School in Vail. To find out more click here.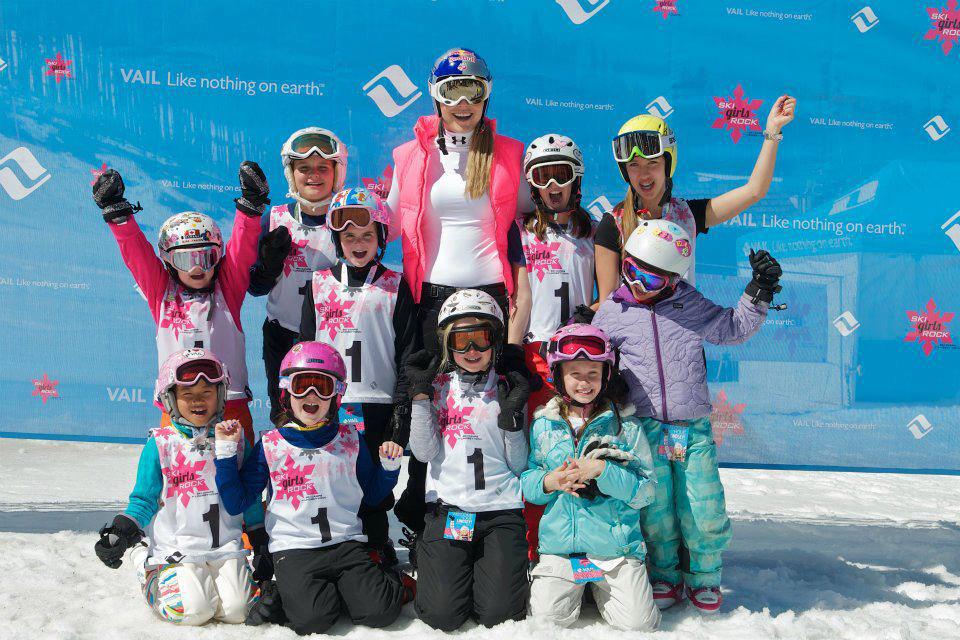 Images: from Lindsey Vonn's Facebook page.