Lindsey Vonn 50th World Cup victory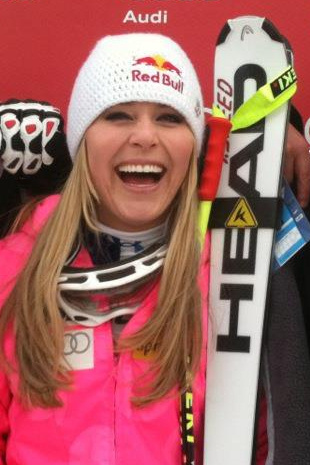 Last weekend, American ski-racer Lindsey Vonn clocked up her 50th victory on the World Cup Circuit.  She was participating in the Kandahar downhill race in Garmisch-Partenkirchen in Bavaria, Germany.  In chilly temperatures of  minus 16 degrees, this challenging course was fast and hard, and she completed it in just 1 minute, 44.86 seconds. 
Her father and sister were in Garmisch to celebrate with her: "I'm at a loss for words. I'm trying not to get really emotional – I already cried once," Vonn said after the race.  "Fifty World Cup wins is a huge mark for me in my career and more than I even thought possible. I just wanted the 50th win."
The only other women in World Cup history to score more than 50 wins on the World Cup are Vreni Schneider of Switzerland with 55 and Austrian Annemarie Moser-Proell with 62.  
Only three men have clocked 50 victories or more: Swede Ingemar Stenmark won 86, Austrian Herman Maier 54, and Italian Alberto Tomba with 50.  As Vonn remarked: "Alberto Tomba has 50 wins and he's one of the best skiers of all time. I don't see myself that way, but to know that I've accomplished so much to this point is amazing."
Vonn's first win was in March 2006 in Norway.  So far this season, she already has nine wins.  She currently leads the overall World Cup standings by 482 points and the downhill standings by 230 points, and looks on course to reclaim the overall World Cup champion title from her friend and great rival Maria Hoefl-Riesch, the Garmisch-Partenkirchen native who narrowly missed a podium finish on her home slope on Saturday, taking fourth place.   
 "I am just so happy, every win is special, but 50 is a huge mark," Vonn said after the race. "I feel like today will be a day when I look back at my career and see what I have achieved. But I have a lot more to do. I still have a lot more years of skiing in me." 
At this rate, it won't be long before she overtakes Vreni Schneider's record of 62 wins!