It's Snowman Week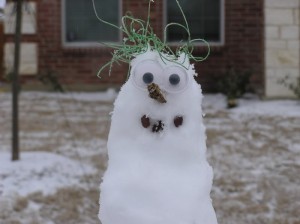 It's Snowman Week (Schneemann Woche) this week in Lower Austria in the ski resort of Göstling-Hochkar, 160km (100 miles) south-east of Vienna.  This small little-known town of around 2,000 inhabitants currently holds the world record for building the most snowmen in the world in one go – 3,580 in total. 
Between now and 26 February, they are attempting to build even more.  Already, there are snowmen of every size and shape on every corner, and lining the ski slopes – fat ones; thin ones; Snow White; the Simpsons; Spongebob Squarepants; snowmen in lederhosen and bikinis…



Don't miss out on the action.  If you're in the area, get your family to Göstling this week, register with the Göstlinger Alpen tourist office (http://www.goestling-hochkar.at/, tel: +43 (0)7484 50 20 19) and become part of a new World Record.  
Once you've built your snowman, there's also an excellent ski area to enjoy – the highest resort in the Eastern Alps– with snow guaranteed from November until late April and slopes catering for all levels of difficulty. 
For kids (3yrs+), there's a magic carpet, a baby lift and the Fairytale Forest Run.  The local skiing and snowboarding school provide beginners' lessons and lunchtime childcare during school holidays (http://www.jo-schi.at/, tel: +43 (0) 664 420 14 12). 
For non-skiers, there's an ice-rink, a curling rink, 50km of winter hiking trails, snowshoe hiking and a natural sledding run to enjoy, as well as the Ybbs Valley Brine Baths Complex, with its brine steam baths and saunas, massage and water-therapies.