"Grey Eagles" at the Winter Youth Olympic Games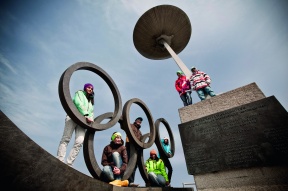 Innsbruck is set to make history tomorrow as the venue for the first ever Winter Youth Olympic Games.  Some of the sporting venues have been built specifically for the event, as well as the Youth Olympic Village near the centre of the city.  Accommodating over 1,500 athletes and officials, it is bustling with anticipation on the eve of the Games, which run from 13-22 January. 
It was exactly 118 years ago, in 1894, that Pierre de Coubertin re-kindled the flame of the famous ancient games of Olympia, creating the basis for the Olympic Movement.  Just two years later, the inaugural modern Olympic Games took place in Athens, on the exact site of the ancient Games.  The first Winter Olympic Games was in Chamonix in 1924 and, since 1994, the Summer and Winter Olympic Games have been held alternately every two years. 
Tomorrow, as the flame is lit in Bergisel Stadium, not only will Innsbruck stage the inaugural Winter Youth Olympic Games; it is will also become the first city ever to host an Olympic Games for the third time – the Tyrolean capital has already welcomed the main Winter Olympics in 1964 and again in 1976.
One of the most striking features of the Youth Winter Olympic Games is that they are being supported by a special group of 150 people – dubbed the 'Grey Eagles' – all Volunteers from the 1964 and 1976 Winter Olympics. Volunteers play a central role at all Games and the pooled wealth of knowledge and experience of these Olympic veterans will be key to the success of the Innsbruck 2012 Winter Youth Olympic Games.
One Grey Eagle, Jose Spieler first applied to become a volunteer at the Innsbruck 1976 Winter Games.  Little did he know it would mark the start of a 36-year globe-spanning Olympic adventure:  "I applied to become a volunteer at the '76 Games and then all of a sudden I was responsible for preparing the ice for the Skeleton, Luge and Bobsleigh track in Igls. I even had to develop new tools myself to shape the ice."
He clearly did a good job as he was subsequently invited to prepare the ice at the Winter Olympic Games in Lake Placid, Sarajevo, Calgary, Albertville, Lillehammer, Nagano and Salt Lake City. "The preparation methods I developed back then are still used across the world today."​
For further information:
On venues, see yesterday's FamilySkiNews.com report.
On disciplines, see our First Ever Winter Youth Olympic Games report. 
On the torch relay, see our Winter Youth Olympic Torch leaves Athens report.