End-of-season ski parties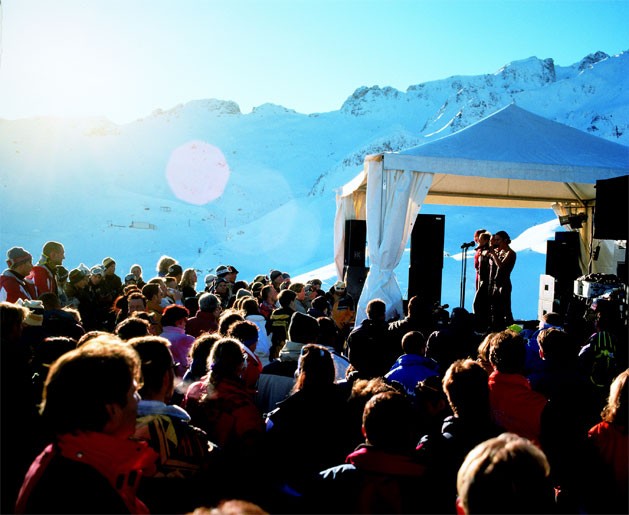 Many resorts are celebrating their final weekend of the season this weekend.  As a result, the hills are alive with the sound of music festivals, slope-side DJs, open-air discos and skiing competitions.
In Canada, Whistler has just enjoyed its World Ski & Snowboard Festival – the largest annual winter sports and music festival in North America – ten wild days of live music events and sports competitions, all with its famous catchphrase "Party in April, Sleep in May". 
Across the pond, in Austria, St Anton – a resort known as much for its partying as for its skiing – has completed its annual 'White Thrill' Race (Weisse Rauch) with 500-plus participants from all over the world careering at breakneck speeds from the top of the Vallugagrat down to the valley 9km below (including a 150m ascent midway down the course). 
The Swiss festival Zermatt Unplugged was also recently in full swing.  Chris de Burgh headlined the five days of live music and partying.  "The snow here reminds me of Christmas", he remarked between songs, but none of his 2,000 enthusiastic fans seemed to care about temperatures around freezing point, and the wintery snow conditions. 
On Thursday Zermatt marked the start for the three 3-day Glacier Patrol (Patrouille des Glaciers), a ski mountaineering race organised every two years by the Swiss Army, from Zermatt to Verbier following the famous Haute Route.  However, the race was cut short in Arolla today, due to the instability of the snow.  You can read more about the event by clicking here.
This weekend in Sölden, the annual Maxx Mountain Glacier Festival runs from Sunday 29th to Tuesday 1st May – three days of fun and games up on the glacier, including ski and snowboard equipment tests, snowmobile and piste-basher rides, plus a host of entertaining shows and parties.   Today in Sölden is also the last day of a three-day summit meeting for wine and gourmet foodies, showcasing fine wines and Toque-awarded local culinary specialities. 
But perhaps the craziest Alpine party this weekend, however, is at La Clusaz, in the Lake Annecy Ski Resorts region.  This French resort has been celebrating the end of the ski season for twenty years with a two-day festival called the Défi Foly (The Foly Challenge).  This weekend, around 150 crazy competitors will endeavour to 'ski' across the 180-metre-wide Lake Confins on anything that slides – skis, snowboards, homemade sledge-contraptions…. all trying to beat the 155-metre record set in 2010.  It should be an entertaining (albeit a rather wet) end to the season!
Here are some of the various USOs (Unidentified Sliding Objects) in action:
and here's the current champion: