Didier Cuche bows out in vintage ski-style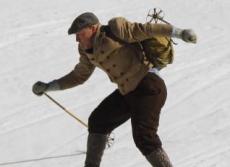 Swiss ski racer Didier Cuche has skied his last ever World Cup race.  It was undoubtedly the slowest run of his World Cup career – 4 minutes and 29.92 seconds – as he bade an unforgettable farewell to the Alpine ski circuit.
The reason he took so long to navigate the Planai giant slalom course in Schladming, Austria, was because the 37-year-old Swiss was skiing on long, old-fashioned wooden skis with leather lace-up shoes, ancient bindings and long wooden poles.  To complete the vintage look, he was dressed in 1900s-style double-breasted tweed jacket, plus-fours and gaiters, woollen mittens, a cap covering his bald head and even a leather knapsack on his back – a far cry from today's 'second-skin' high-tech racing jumpsuits.
It was a very different Didier from last month, when he became the oldest winner of a World Cup race with his super-G victory in Crans Montana. 
It was an emotional final ski in Schladming, as he slipped and skidded precariously down the piste, with a beaming smile on his face, stopping to embrace supporters on his way down. He even crashed once!  He eventually crossed the finish line, cheered on by over 25,000 fans, more than two minutes behind the Austrian winner, Marcel Hirscher.
Didier Cuche has been on the circuit for 17 years. A veritable Swiss skiing legend, who first learned to ski in the Jura, he is also a hero in Austria – after his record five wins in the Kitzbuehel downhill, which we reported here earlier this year. 
In nearly two decades of ski racing, he has six World Cup victories to his name (four in downhill, one in Super-G and one in Giant Slalom) and he was the Super-G World Champion in 2009, and Olympic Super-G silver-medallist in 1998.
Hugely popular on the circuit, fellow skiers paid him tribute: "…he is the downhill master … he will retire as the downhill master," said Norway's Aksel Lund Svindal.
US ladies World Cup winner Lindsey Vonn remarked: "Everyone's going to miss Didier, he's such a cool character. He's always a fun guy to watch."
True to form at the end of the race, much to the delight of his fans, Cuche ended his retirement race by performing his trademark right-ski flip for the last time, before being lifted aloft by the Swiss team, while many of the competitors who followed him down the slope attempted ski flips in tribute to him – with varied success!
This is the photo he posted on his Facebook page with the simple message: Sniff, last race today:-(