Chemmy plans to ski again in May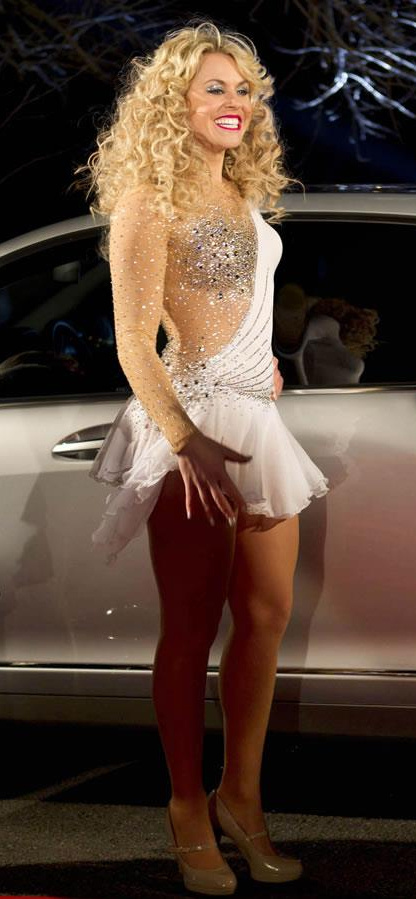 Chemmy Alcott became the latest celebrity to leave ITV's "Dancing on Ice" competition last night, after judges voted to save Chico Slimani in this weekend's circus-themed show.
In recent weeks Chemmy has been no stranger in the nail-biting 'skate-offs', but this weekend her luck ran out as Chico went forward to the semi finals, with three votes to one.
The professional skier is still recuperating after a major ski accident last year when her leg was shattered and, although "gutted" to be leaving the show, she is happy that Dancing on Ice has helped her get her strength and confidence back.
In an interview today with Philip Schofield on ITV's This Morning, she said: "I've loved the show and I went out on a high… we've had the best week, I love that routine and I've had an amazing journey. The competition was so tough – I'm not as known as everyone else… I could have gone out in week one."
She clearly enjoyed the whole ice-skating experience, joking: "I'm worried that my 'skating on ice' personality is going to come out too much…. I'm worried when I'm downhill skiing, at the start, that I'll start posing and going 'how do I look?'… I need pink and I need sparkles… but actually it doesn't matter as I'm going downhill at 80mph – I just need to race."
She went on to explain: "There were so many reasons why I did this show. Fate really intervened. There was a massive opportunity to test my leg. A year ago, I genuinely couldn't walk… I couldn't feel my right leg… and now, look at all the things I can do. It will, will really influence my [ski] comeback…. Also I've inspired so many people who've had an injury and I didn't realise that's why I was doing it but so many people have written to me."
When asked if she was worried about further injury, she replied: "I have to live on the limit to do what I do. I have screws loose to be a downhill ski racer, so this wasn't a risk for me, this was rehab. …. I can't go into life going 'I could get injured today', because I have to be able to go on the limit every time I perform.… I didn't consider the injury aspect."
Best news of all, Chemmy confirmed: "Straight after the [Dancing on Ice] tour, I'm going to be skiing again… the whole way through the tour I'm going to be in the gym doing leg weights… Me and Chico are going to do a ski racing [gym] programme, then after the tour I'm going to go back to skiing and then race next year."
"I'm going to ski the week after the tour in May… on the glaciers in Austria," she continued. "Then the aim has always been the Sochi Olympics in 2014. Hopefully this summer everyone will get caught up in the Olympic fever and then say 'when's the next Olympics?' and I can say 'in Russia in 2014 – come and watch me!'".
Photo credit: Chemmy Alcott's Fan Site Facebook page