Chemmy shimmies on ice
Chemmy Alcott is one of the favourites to win the new ITV series of "Dancing on Ice" and, judging by her performance on ITV last night, we think she's definitely in with a shout, competing against the likes of Sugarbabe singer Heidi Range, actress Jennifer Aniston and freerunner Sebastien Foucan.
The self-funded 28-year-old Chemmy – Britain's number one female alpine ski racer for a record seven years – can normally be seen competing on the World Cup circuit in all five ski disciplines – downhill, super G, giant slalom, slalom and combined.
Chemmy started skiing when she was just 18 months old, during a family holiday to Flaine in France. She skied her first fun race at the age of three and started competing when she was just eight years old. Her absence on this year's circuit however is due to a serious compound leg fracture in December 2010 whilst training in Canada.
According to presenter Philip Scofield on ITV's This Morning, Chemmy was a little emotional in rehearsal when she recalled her dreadful injury. It is thought that Dancing on Ice should help her regain her confidence as well as raising her public profile. However, her participation has already caused much debate. British Ski and Snowboard Chief Executive, Dave Edwards is reported to have said that "Ice dancing will no doubt present a risk to her recovery… though surely no greater than a downhill?"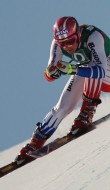 The feisty 28-year-old blogged a couple of days ago: "I understand some people may be confused at my participation in Dancing on Ice 2012… I am a rehabbing athlete who has NOT quit her first love, skiing. After my horrendous crash, ice skating is enabling me to find the link between my head and metal right leg. It is helping not hindering my rehab."
She certainly appeared to enjoy her first ice dance, tweeting immediately afterwards: "Wow wow wow am so buzzing! Hope you all enjoyed it… I have so many more tricks to show u all."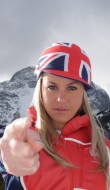 Setting foot onto the ice rink would seem to be a significant step forward for Chemmy. Since the crash, she has yet to return to snow training. But she is planning to start training again by March, and is setting her sights on her fourth Winter Olympics, at Sochi in Russia in 2014.
"My aims and goals haven't changed," she remarks. "In fact they are stronger than ever!"