An eggs-travagant purchase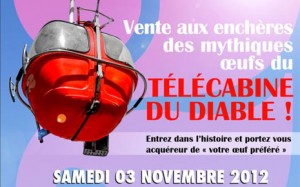 Want to buy a ski lift?  The French resort of Les 2 Alpes is selling off their 'red egg' ski-cabins from its most famous lift – Le Diable ('The Devil')!
The lift was installed in 1972, with 80 cabins containing four seats in each – at the time it was considered very advanced!  For the past forty years, this lift has become iconic and a favourite of many.  Now it is being replaced with a new state-of-the-art, speedy lift with considerably greater capacity (2,200 people per hour), and the resort is auctioning their legendary bubbles for charity.
We think they would make fantastic Wendy houses for ski-mad kids, like this one (pictured right) at the Hotel du 4 Vents in Fribourg in Switzerland, an eccentric summer gazebo, a quirky dog kennel, or just a novelty shed in the garden… 
If you want to buy one, the auction is taking place on 3 November at 1630 on Place de Les 2 Alpes, with viewing the same day from 1000-1200.  Each 'egg' carries a reserve price of €150.  But, before you bid, do consider the shipping charges… at 500kg in weight and over 2 metres in diameter, it's certainly not going to fit in the back of your car!