Crystal switches to train transfers
Crystal Ski Holidays is implementing train transfers instead of coach travel to all Swiss ski resorts from December 2016.  It will make family flight transfers with babies, toddlers, buggies and baggage much easier.
Starting this coming 2016/17 season, all Crystal Ski transfers to Swiss ski resorts will be by train instead of coach. This change is due to the excellent existing Swiss transport system and encouragement from smart customers who were concerned about the carbon footprint.
Another positive side effect is that transfer times will also be shorter by train.
What's more, all customers who book before 15 December 2016 will receive a first class upgrade.
Sara Roloff, Switzerland Tourism Manager Media and Communications commented: "The Swiss train transfer is the ideal solution for skiing holidays as the integrated timetables between interregional and regional services on the Swiss network are programmed to meet in the hub of the station, mostly sharing the same platform, to minimise further transfer times."
 Nial Mclean, Crystal Ski Holidays General Manager France, Switzerland & Andorra added: "The Swiss train network is world famous not only for its punctuality that you can set your watch to, but also for its reliability and excellent green credentials. This makes it the perfect option to ensure all our Swiss customers get their holiday off to a great start with a comfortable, efficient and environmentally friendly transfer to their resort."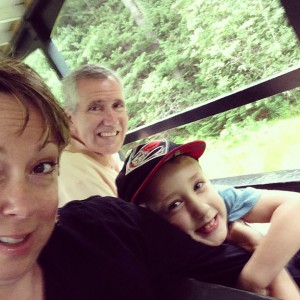 Here at FamilySkiNews.com, we're big fans of the Swiss Travel System.  Indeed we're currently in Zermatt enjoying some summer sunshine in the Alps, having travelled here from Zurich airport entirely by train.
Crystal Ski envisages that using the trains will lead to hassle-free transfers – Crystal reps will meet customers when they arrive at the airport and will then be free to assist them on their train transfer, if needed, rather than wobbling up the aisles of a coach.  Ski holiday prices will remain the same as before.
For parents travelling with babies and young children, this will make a big difference, giving families easy access to luggage, more space and freedom to move around during their transfer.
We rather expect other tour operators will follow suit?…