Vonn's penultimate race crash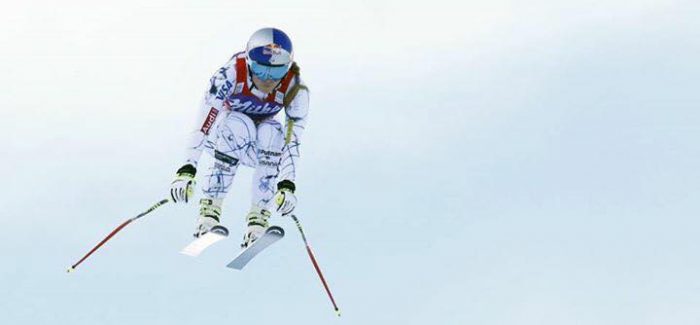 One of the all-time greats, 34-year-old American skier Lyndsey Vonn only announced last week that she would retire after racing the Super-G and downhill at the Worlds.  So all eyes were on her yesterday for the penultimate race of her career in Åre, Sweden.
Lyndsey Vonn is the most successful female ski racer of all time with 82 world cup wins, Olympic medals, World Championship medals, but all those wins and medals have come at a cost with multiple surgeries and weakened knees over the years and, in her words, a "body broken beyond repair" and "screaming to stop".
Sadly this was evident yesterday when she suffered a heavy crash at the start of the Super-G, the final Super-G race of her career.  Losing control in mid-air, she was catapulted through a red ski gate, the panel between the two poles detached and got stuck round her boots, and only one ski came off. The second ski was still attached when she hit the safety netting.  Luckily for her, she was not seriously injured and even managed to ski away with some nasty bruises, after being tended to by medical personnel. She crossed the line to rapturous applause, relief and respect as she safely made it to the base of the mountain.
Vonn had originally intended to retire later in the year, at the end of the World Cup, but she changed her plans due to persistent pain in both of her knees, having failed to finish a race in Cortina d'Ampezzo, Italy, last month.  It followed an ACL injury and three fractures to her left knee in November at Copper Mountain.
After Cortina, she said: "The past two weeks have been some of the most emotionally challenging days of my life. I am struggling with the reality of what my body is telling me versus what my mind and heart believe I'm capable of… The unfortunate reality is my mind and body are not on the same page."
In an emotional post on Instagram, she said: "I have always pushed the limits of ski racing and it has allowed me to have amazing success but also dramatic crashes. I have never wanted the storyline of my career to be about injuries and because of that I decided not to tell anyone that I underwent surgery this past spring.
"A large portion of cartilage that had delaminated from my bone was removed. My crash in Lake Louise last year was much more painful than I let on, but I continued to race because I wanted to win a medal in the Olympics for my late grandfather."
After Tuesday's crash she showed remarkable resilience, remarking "I've got a bit of a shiner and I feel like I've been hit by an 18-wheeler, but other than that I'm great."
However, she still plans on competing in the downhill on Sunday at 1230, which will be the final event of her illustrious career. "Maybe I'll pull off a miracle. Just because you have been knocked down, it doesn't mean you can't get back up."  The three-time Olympic medallist, Vonn says she wants to show girls that "nothing is impossible".
Good luck Lyndsey. We'll we cheering for you!
Top image from Lydsey Vonn's Facebook page.