Comeback queen Lindsey Vonn retires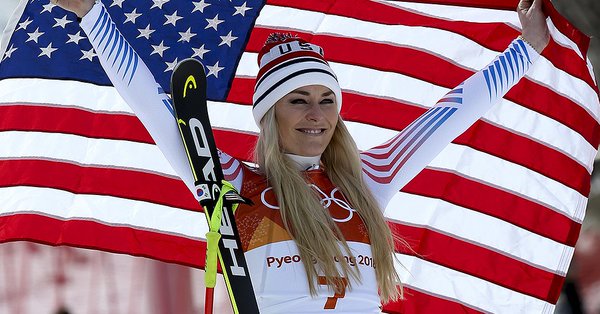 American super-skier Lyndsey Vonn, skied the final race of her illustrious career today in the FIS World Cup Women's Downhill Åre, Sweden, ending with a World Championship bronze medal.  It marks the end of an era for ladies skiing.
In her illustrious career, Lyndsey Vonn has won 82 FIS Alpine World Cup events, more than any other female athlete.  Today in the Swedish resort of Are, it was almost a fairy-tale ending.  For a while, it looked as though Lyndsey was heading for gold.  She was eventually knocked into third place by Swiss Corinne Soutar, and defending champion, Slovenian Ilka Stuhec, who took the gold, at 0.49 seconds quicker than Vonn.  
Vonn, who also won two World Championships, a super-G bronze in Vancouver and a Winter Olympic downhill bronze in Pyeongchang 2018 (see image above), which made her the oldest woman to claim a Winter Olympics alpine skiing medal.  She retires just four victories short of equalling Swede Ingemar Stenmark's record of 86 World Cup wins but, despite this, she is without doubt the best female skier ever.
Her career has been tragically checkered by injuries.  Yet time and time again she're returned from the brink after multiple surgery and countless broken bones.  Even as recently as her penultimate race outing, on Tuesday, she crashed out in her final ever Super-G race.
Prior to this, in a press interview announcing her retirement in January, she'd already remarked: "I've come back from way too many injuries and I'm not able to do it and that's just life. …. It is what it is. I can't change it. I've done my best my entire career.  I've worked as hard as humanly possible. "
Her skiing legacy is an inspiration to younger generations of alpine skiers and also kids keen to pursue snow sports, but especially girls.  In 2011, she founded the "Ski Girls Rock" ski academy at Vail Mountain to empower girls aged 7-14 through skiing, with special ski lessons designed by Vonn.
She is a remarkable ambassador for the sport, showing extraordinary courage, determination and resilience.  Even after Tuesday's crash race, she picked herself up, skied down the course and later commented: "Just because you have been knocked down, it doesn't mean you can't get back up."
And on Instagram the poignant message from ski legend Lyndsey Vonn : "I can look back at 82 World Cup wins, 20 World Cup titles, three Olympic medals, seven World Championship medals and say that I have accomplished something that no other woman in HISTORY has ever done, and that is something that I will be proud of FOREVER!"
In the words of Theodore Roosevelt: "Far better is it to dare mighty things, to win glorious triumphs, even though checkered by failure…than to rank with those poor spirits who neither enjoy much nor suffer much, because they live in a gray twilight that knows not victory nor defeat."
Lyndsey, thank you.  On the podium to the end.  You're a true inspiration.