Vanessa Mae skis at the Olympics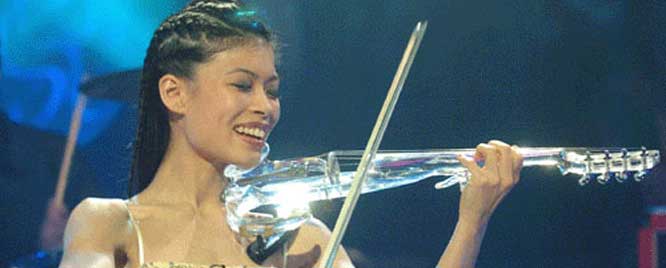 World-famous violinist Vanessa Mae has taken part in the Alpine skiing grand slalom in Sochi.  She has been skiing since she was four years old. 
Mae, a British citizen, is best known for her virtuoso classical music career.  She has sold more than 10 million records worldwide. 
This morning, the 35-year-old violin virtuoso was skiing for Thailand under her natural father's surname Vanakorn.
However, as the Guardian newspaper so aptly remarked: "her Winter Olympic debut was more lento than presto on Tuesday, her rhythm more rallentando than accelerando."
She came 74th and last on the timesheets. Her time of 1:44.86 was a whopping 26.98 seconds slower than the race winner, Slovenia's Tina Maze, who clinched her second gold medal so far at the Games.
Mae's cautious performance was also 7.83 seconds slower than the 73rd placed finisher, China's Lina Xia.   After the race, she told reporters:  "I think now I'm ready to go for speed…. A week of training with not much race experience … training has been really short and controlled and so I really feel the need for speed."
"It's so cool," she told the BBC. "You've got the elite skiers of the world and then you've got some mad old woman like me trying to make it down."
"I nearly crashed three times, but I made it down and that was the main thing. Just the experience of being here is amazing."
Mae has been welcomed into the sporting arena by the other competitors.  She is only the third person ever to represent Thailand at the Winter Olympics.
All in all, given her lack of training, her slight frame and her total inexperience in sporting events, she did well to complete the course – unlike some of her fellow racers who skied out or didn't even start! Finishing within 30 seconds of the gold medallist was a commendable result!
As Vanessa summed up: "To be here at the Olympics is a once in a lifetime opportunity and I feel so blessed to have this chance to go from artist to athlete, to just experience this is surreal almost."