Going for Gold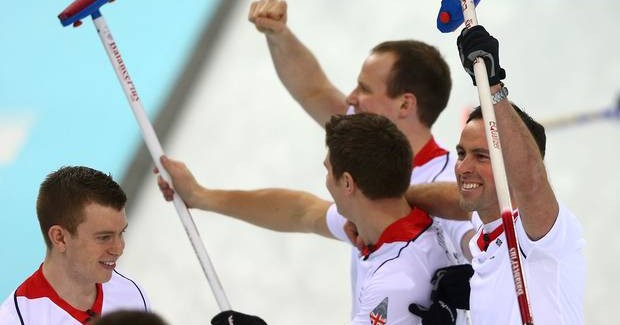 Team GB is going for gold today… double gold. 
The mens' curling team is first on at 13.30.  They are assured of a medal – either gold or silver.
Then at 17.53, short-track speed skater Elise Christie is one of the favourites in the 1000m.
With one, and hopefully two, medals, it will make Sochi 2014 Britain's best ever Winter Olympics.  Fingers crossed!
The entire British nation seems to have gone curling-crazy over the past ten days.  Claire Balding even declared today 'Bring-a-Broom-to-Work-Day'.
David Murdock, the UK skipper, is remaining totally focussed, saying ealier to the BBC: "I want the gold… you get this opportunity once in a lifetime and it's up to us to seize the day and make some incredible history."
Gold or silver, it will be the Britain's first men's Olympic curling medal since the inaugural competition in Chamonix in 1924 (although after that year the sport did not return to the Olympics until 1998).
It will also be Britain's fourth curling medal at a Winter Games since 1924 success.  The other two were Rhona Martin's celebrated late-night gold in Salt Lake City in 2002, and this Thursday's bronze from the women's quartet.
However, nobody deserves a medal (and hopefully a gold one!) more than Elise Christie.  Britain's top female speed skater had the most catastrophic start to her Olympic bid, with disqualifications in the 500m and a 'did not finish' the 1500m.  Her stunning race in the semi-finals showed the world she is a definite medal contender, leaving the rest of the field behind with her phenomenal acceleration, which you can watch again by clicking HERE.
Good luck to them all.
We don't know about you… but we will be glued to our televisions!