Kids' record-breaking postcard sends climate change message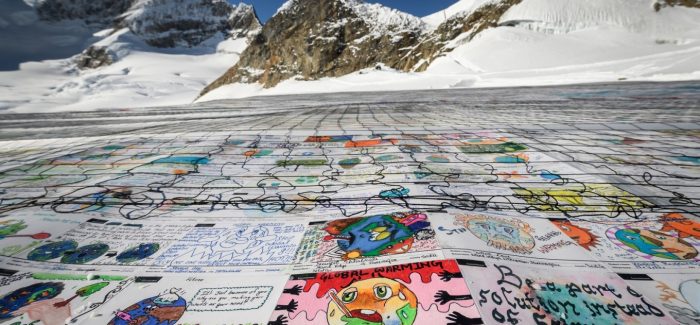 Look down on the Aletsch Glacier in the Swiss Alps and you will see an immense postcard.  It is, in fact, a collage of 125,000 drawings and messages made by children from around the world.  This artwork, laid out on the snow on 16 November, 2018, has smashed the world record for giant postcard.  Its subject matter?.. why, climate change, of course.  
The collage of drawings are messages about climate change, created by kids around the globe, measures 2,500 square metres (26,910 square feet) and is situated at an altitude of 3,400 metres (11,200 feet) on the Aletsch Glacier.
The giant postcard was organised by the WAVE foundation and aims to boost a global youth climate movement ahead of the next global climate conference (COP24) which is taking place in Poland next month.
Why did the kids put it here?  The Aletsch Glacier is the longest glacier in the Alps and it is just one of the many glaciers in the region which are melting at an alarming rate.  The Aletsch Glacier loses nearly 12 metres (40 feet) of ice each year and, at this rate, it could be gone by the end of the century. Due to global warming on the Alpine landscapes, this rate of retreat seems to be accelerating.
The children's pictures spell out a number of messages loud and clear – "Stop global warming", "We are the future give us a chance"  and "#1.5C" – this indicates a goal to keep global warming below 1.5°C – the maximum level of global warming that should be aimed for, according to scientists, if Earth is to remain inhabitable. It serves as a poignant reminder, following the UN's climate report just last month warning that drastic action is needed to prevent the planet from a far sharper rise in temperature.
"Children will have a key role to play if the [1.5°C] goal is to be achieved, both as generations that will suffer from the consequences of climate change for a long time and as a force for concrete action" said the Swiss Agency for Development and Cooperation (SDC).
The striking giant mosaic of postcards easily clinched the Guinness record for the world's largest postcard – the previous record-holding collage contained a mere 16,000 individual postcards.
The SDC will be sending some of the postcards to the participants of the next global climate conference (COP24).  Most aptly, they will be sent from the world's highest postbox on the peak of the Jungfraujoch – overlooking the Aletsch glacer.
Of course, postcards are a dying form of communications in today's computer age; and the glaciers of the world are disappearing too.  The two combined serve as a powerful and poignant message not just for politicians but for us all to act now to combat climate change.