Skiing the Sella Ronda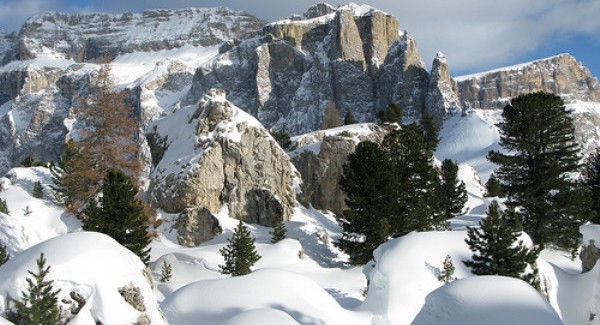 Our editor, Teresa Fisher, reports on our ski tour of the Sella Ronda – the highlight of the Dolomiti Superski area, one of the largest ski areas in the world.   
As I stepped out of the door of our hotel, I took a gulp of chilly air, and watched my breath steam from my mouth.  It was minus 11 and we were glad to stumble into the awaiting (heated!) minibus.  From the warmth, we could see the passing landscapes were crisp and clear against a cloudless blue sky – it was the perfect day for a ski outing, if a tad cold. A 25 minute-transfer from our resort of San Vigilio where we were staying at Albergo Majarei with Crystal Ski, and we'd arrived in Colfosco, one of a chain of resorts which form the Alta Badia.  Before we knew it, we had piled out of the toasty minibus onto our skis at the foot of the chair-lift.  We were at the start of our epic tour – skiing the Sella Ronda circuit.  I knew I was in safe hands (and that it was going to be an excellent day) when my ski guide from San Vigilio, David David Fodara Vedla, did up my boot fastenings for me and carried my skis!
The mighty Sella Ronda circuit is the best known ski route of the Dolomites – a well-signposted network of lifts and runs totally roughly 40 kilometres encircling a grandiose limestone massif called the Gruppo del Sella.  It covers four passes (Gardena, Sella, Pordo and Campolongo) and four Ladin valleys (Alta Badia, Val Gardena, Val di Fassa and Livinallongo) and spans three provinces (Bolzano, Trento and Belluno).
It is easily skiable in a day for any fit intermediate skiers who can tackle red runs with confidence, as long as you don't hang around too much.  You really need to start no later than 10am in order to reach the last pass no later than 330pm, so that you don't get stranded when the lifts close.  Be forewarned: a taxi ride back home to a resort in another valley can be expensive!  If you ski like crazy, you could potentially complete it in 3-4 hours (depending on lift queues – there can be bottlenecks, especially during peak weeks and at weekends) but that's to miss the point.  Allow a generous 5-6 hours.  The Sella Ronda is an expedition, a day trip, a full day on the slopes with a leisurely lunch on a sunny terrace and time to marvel at the majesty of the Dolomites.
It comes as no surprise that the Dolomites are a UNESCO World Heritage Site when you see the breathtaking and distinctively craggy, cliff-like mountains, so utterly different from the more stereotypical Alpine landscapes of France, Austria and Switzerland.  They are named after 18th-century geologist Déodat de Dolomieu, and their vertical rock faces are rich in minerals and fossil remains which glow in various hues of pink, orange, purple and gold in the sunlight.  They appear to change colour as the day progresses, and are utterly bewitching.
You can ski the Sella Ronda loop in two directions.  We chose to ski anti-clockwise: it's slightly quicker; the slopes are sunnier, and it's a little easier that way round, with long blue and red cruisers snaking through breathtaking scenery – we especially enjoyed skiing the Città dei Sassi ('City of Rocks'), through a huge snowy boulderfield directly beneath Sassolungo on the Sella Pass.  The clockwise (orange-signed) route can be started from any of the four valleys.  And so we climbed aboard at Colfosco, and set off on the massive ski-roundabout that is the Sella Ronda.
The first slope was one of the steepest and most challenging… or perhaps we just hadn't warmed up?… down towards the pretty Tyrolean village of Ortisei.  Before long we were getting into the swing of things, helped along by a shot of Italian coffee at a slopeside ice bar.
A large part of the circuit is spent on chair lifts and cable cars.  During the morning, this was quite frustrating but as the day progressed and with wearying legs, they provided welcome respite and a chance to marvel at the wild, craggy Dolomite landscapes.  Our guide pointed out the various peaks, pinnacles and landmarks as we went.
Numerous pistes and lifts later, and with several peaks satisfactorily behind us, David suggested we take an early lunchbreak, before the madding crowds.  He knew a perfect spot – a tiny rustic bar and restaurant called La Fienile.  Lunch commenced with a chilled glass of crisp Franciacorta (white sparkling wine from Lombardy) on the sun terrace.  Then it was all downhill from there!…. a plate of tagliatelle, a bowl of tiramisu and a shot of 'meadow hay' grappa, and how could our technique fail not to be improved!
We set off at a gentle pace for the afternoon, safe in the knowledge that we'd completed the lion's share of the Sella Ronda and that we could enjoy a leisurely ski round the rest of the circuit on quiet slopes in the afternoon sunshine.  On to Passo Pordoi and then down past the Marmolada – the highest peak of the Dolomites – on a stunning and lengthy red which swoops down nearly 1,500 vertical metres to Arabba.
Arabba boasts the steepest part of the circuit and some excellent snow conditions, though the slopes were busier.  We decided to stop for a restorative hot chocolate at Café Burz before continuing the loop round to Corvara by 4.30pm.
You can also join the Sella Ronda from Selva, Canazei or Arabba, but many people choose to start in Corvara in Alta Badia, simply so they can end it in one of the Dolomites' most popular après-ski bars, L'Murin (open 3.30pm-8.45pm) in the village of Corvara, with a celebratory drink, a dance on the table and a pat on the back.  We had covered 15.705 metres of ski lifts and 22.950 metres of piste: a grand total of 38km and 655metres all in one day… and no mean feat for an intermediate skier!    
Teresa Fisher travelled courtesy of Crystal Ski Holidays and stayed half-board at Albergo Majarei, in the resort of San Vigilio-Kronplatz, just a 25-minute minibus ride from the Sella Ronda circuit.  Find out more about her visit in our earlier story 'Skiing on the  Panettone' by clicking HERE. 
Crystal Ski also offer holidays to resorts on the Sella Ronda circuit – Val di Fassa, Ortisei and Selva Val Gardena. 
All areas are covered by the same Dolomiti Superski lift pass (covering a remarkable 1,200km of pistes and 450 lifts- one of the largest ski areas in the world). A daily pass costs €47/€53 (low/high season) for adults or €33/€37 for juniors; a six-day pass costs €237/€279 for adults or €166/€189.           
For this season, Crystal Ski are currently offering a week's self-catering in San Vigilio from £265pp (with availability in February and March); self-catering in Val di Fassa from £255pp (availability in February, March and April); half-board in Ortisei from £605 in March; and half-board in Selva Val Gardena from £455 (availability in March and April).  All prices include flights from Gatwick and transfers.  Departures from all major UK regional airports are available at a supplement starting from £25.
For further information Crystal Ski's Italian resorts, visit their website by clicking HERE. 
Other related posts:
Kronplatz – Skiing on the Panettone
Verona airport as a ski hub
Madesimo – made for families