Room with a view in Courchevel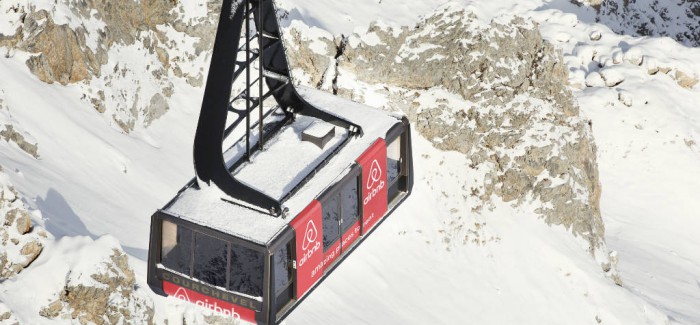 Love is in the air in Courchevel – the French ski resort is offering four lucky guests the chance to spend the night in one of their cable cars at an altitude of 2,738 metres.
The team in Courchevel ski resort are offering the chance to win a one night stay in the Saulire gondola in March, at the peak of the mountain which separates the Courchevel ski area from neighbouring Méribel in the Three Vallées.
This unusual accommodation is part of Airbnb's "A Night at" initiative, which provides the opportunity for people to stay in unusual and unconventional places.   It will be the company's highest European listing.
The cable car will be transformed into a mini apartment to include two bedrooms (but no bathroom!) and a dining area.   Guests will enjoy a vin chaud and a romantic fondue dinner in the gondola whilst dangling above the hopefully-starlit resort.  It will then come to rest above the resort (near a toilet!) so that guests can sleep soundly at the cablecar station ready for the first descent on freshly-pisted slopes ahead of the crowds the following morning.
For your chance to win, simply visit the cable car's listing on the Airbnb website by clicking HERE and explain in no more than 100 words why you would like to stay at the top of the Saulire.
As James McClure, general manager of Airbnb for UK and Ireland remarked: "This night in a majestic and unexpected setting joins thousands of ski-friendly listings around the world and will remain in the four winners' memories forever."
For tips on how to find the perfect Airbnb accommodation for you, the following article may be of interest: https://www.stagkissbudapest.com/blog/find-perfect-airbnb-accommodation/   
Other related posts:
Love is in the air this Valentine's Day