Les Menuires is Best Family Resort for 2015
The World Snow Awards have named Les Menuires the Best Family Resort of 2015. This charming, small French resort nestles beneath Val Thorens at the heart of Les 3 Vallées – the largest ski area in the world, with some of the best skiing in France.
Members of the FamilySkiNews team have skied here on many occasions, including our regular teenage reporter, Katie Campkin, whose story 'Teenagers ski Les Menuires' you can see by clicking HERE.
It's the first time the family resort award has been won by a satellite resort.
"What's a satellite resort?" we hear you cry… well, it's a term used to describe a small resort or village, connected to a larger, better-known resort or ski area.
That's possibly why you may not have heard of Les Menuires until now.
However, it's now time to sit up and listen, as this pint-sized resort is the cheapest resort in the Three Valleys network and it's really going places…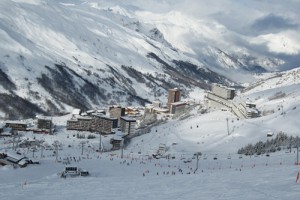 The World Snow Awards website describes the resort as follows: "Les Menuires' 'DNA' could be summed up in just one word: innovation. We want families to have the best experience, and to achieve that we are heavily investing in new infrastructures, new customer experiences, new easy runs… whilst remaining the most affordable family ski resort in Les 3 Vallées!"
Les Menuires was originally a 1960s purpose-built resort (and some of the original buildings at the heart of the resort are pretty hideous), in recent years a more sympathetic architecture of chalets and more upmarket residences has emerged. The latest skiers' 'bible' Where to Ski and Snowboard 2016 sums it up rather nicely: "we now view Les Menuires as a very attractive base – especially the bits we've christened 'Belles-Menuires'."
What Les Menuires lacks in architectural design, it definitely makes up in other ways. Genereally, there can be some real benefits to opting for the satellite, the lesser-known resort of any big ski area.  Top of the list is often the price tag.  You can usually find plenty of good-value deals in the satellite resorts to entice you away from the bigger name destinations.  But it's not just about price, the satellite resorts are often more atmospheric and characterful.  And most are ideally situated in the middle of an extensive ski area.  In the case of Les Menuires, you have perfect access to the 600-plus kilometres of pistes available in he "three valleys" of Val Thorens, Meribel and Courchevel. Their high altitude guarantees superb skiing from early December right up to the end of April.  Les Menuires is the second highest resort in the area (after Val Thorens), so snow conditions are usually excellent and you will be starting your day on the slopes the heart of the action.
If you're worried about the cost of lift passes – and yes, Les 3 Vallées is not cheap at €283 for a 6-day pass (€228 for under 13s) – this season you can get an alternative pass for Les Menuires and St-Martin-de-Belleville (another satellite village just below Les Menuires) for just €159.60 (€127.60 for under 13s).
So, we reckon it's a win-win situation for families staying at Les Menuires. It's a tiny, personal resort with everything within easy reach and minimal nightlife (no rowdy crowds 'on the piste'(!) as the bars close and no thumping discos into the early hours) –  making it especially ideal for families with younger children.  There are plenty of shops and restaurants, and a wide choice of ski-in-ski-out accommodation.  As space in Val Thorens becomes increasingly limited, Les Menuires is expanding to meet demand – so now's the time to ski there before it starts to sprawl!
Tour operators selling holidays here include some of the smaller companies, offering a more personal service, such as Ski Amis, Ski Famille and Powder N Shine.
But you do need to be able to pronounce the name of the resort if you're planning on discussing it with any of them! Steer well clear of 'manure', it's more like Les Men–"we're"!
The World Snow Awards, are organised by The Telegraph Ski and Snowboard, and they were announced at London's Ski & Snowboard Show yesterday. It's the fourth year for the awards, which recognise excellence in the snow-sports industry over the past 12 months.
Other nominees for Best Family Resort in this year's World Snow Awards were Nendaz, Graechen and the Aletsch Arena in Switzerland; Pila in Italy; SkiWelt in Austria; Panorama in British Columbia, Canada; and Les 2 Alpes and St Gervais in France.  Previous winners of the 'Best Family Resort' award are Avoriaz in 2012, Keystone, USA in 2013 and Valmorel in 2014.
The World Snow Awards cover a wide range of categories covering everything imaginable from Best Goggle Manufacturer to Best Après Ski Bar… (the Food and Drink categories are new this year!) Five of the categories are open to public voting (see below); the rest are selected by a panel of expert judges from across the industry including Frank McCusker, chief executive of The Ski Club of Great Britain, and technique expert, Warren Smith.
Other notable winners this year included Les 2 Alpes which won the award for European Resort of the Year, featured in an earlier story HERE; and Chemmy Alcott, featured HERE, who clinched the most coveted award of the night, the Lifetime Achievement Award.
Here's a full list of winners:
Resort awards
European Resort of the Year Les 2 Alpes
Highly Commended – Les Arcs
North American Resort of the Year Park City
Family Resort of the Year Les Menuires
Travel awards
Best UK Chalet Company – Public vote Treeline Chalets
Best UK Snowsports Tour Operator – Public vote Nonstop Ski & Snowboard
Specialist Travel Agent Independent Ski Links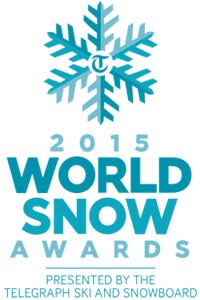 Retail, clothing and equipment awards
Best UK Snowsports Retailer – Public vote Snow+Rock
Best Clothing Manufacturer Peak Performance
Highly Commended – Helly Hansen
Best Technological Innovation Atomic Backland ski boots
Best Safety Kit Manufacturer The North Face
Best Goggle Manufacturer DRAGON Highly Commended – Julbo
Food and drink awards
Best Mountain Restaurant – Public vote Le Signal, Val d'Isère
Best Après Ski Bar – Public vote La Folie Douce, Val d'Isère
Hardware awards
Best Ski Fischer Motive 86Ti
Best Women's Ski Scott Luna
Best Ski Manufacturer Rossignol
Best Snowboard Yes Pick Your Line
Best Women's Snowboard Burton Lip-Stick
Best Snowboard Manufacturer Bataleon
Lifetime Achievement Award Chemmy Alcott
Other related posts:
New awards for skiing and boarding
Bell brothers win World Snow Award
Val Thorens voted world's best ski resort
Avoriaz wins 'best family resort' award
Chemmy Alcott wins Lifetime Achievement Award
Les Deux Alpes voted European resort of the Year
Valmorel goes virtual
Family-friendly French resorts
New family-friendly five star hotel in Val Thorens