Choir tour to Alpe d'Huez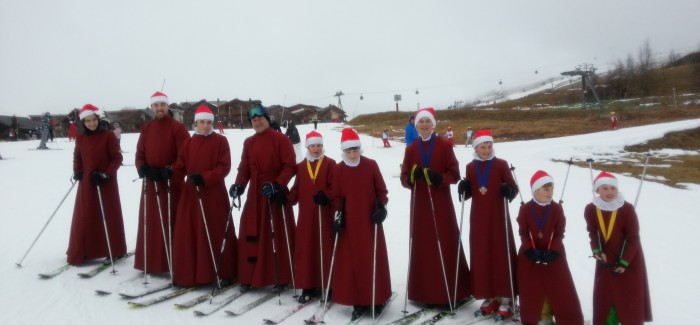 Our editor, Teresa Fisher, took her family out to the resort of Alpe d'Huez in the French Alps over New Year for a ski trip with a difference.  Here's what they got up to…  
We're not usually fans of purpose-built resorts, so we were not sure what to think when we were invited to Alpe d'Huez to take part in a combined Cathedral-choir-cum-ski holiday. Of course, we're huge skiing fans so we were never going to say 'no' to such an unusual opportunity!
Before I continue, let me explain… both my sons are choristers at Portsmouth Cathedral and it just so happens that the Choirmaster is also a very keen skier, with property in the Alpe d'Huez Grand Domaine Ski area, so a choir-cum-ski tour sounded just too good to miss.
The deal was this… a number of choir families would book their family ski holiday in Alpe d'Huez for the week after Christmas; the boys would ski during the day, and sing various concerts in alpine churches, being 'paid' with the gift of a free lift pass, courtesy of Alpe d'Huez Tourism. It was a first for us… and a first for "Dr P", the choirmaster, who previously had never brought choristers to the resort!
We had opted to drive out to the Alps and to rent an Airbnb apartment in order to keep costs down (as featured in a previous story Airbnb and Skiing). After all, New Year is traditionally one of the most expensive weeks of the season.
As we drove up the 21 notorious hairpin bends to Alpe d'Huez, we were firstly relieved to be in a warm, comfortable car rather than on a bike (this serpentine road with an average gradient of 8.1% is best-known as the toughest Stage climb on the Tour de France cycle race, as we reported HERE); and secondly, we were pleasantly surprised with the resort on first impressions.
Alpe d'Huez nestles spaciously at the lip of a southward-facing massive bowl of rock, carved out of the Grandes-Rousses mountains by an ancient glacier. Although largely purpose-built, it doesn't fall into the trap of so many other French resorts of the 60s, 70s and 80s, devoid of quaint alpine charm, with soulless apartment blocks marring the mountain vistas.
The ski resort has been built above the traditional village of Huez at an elevation of 1860 metres. It dates back nearly a century so oozes character, as well having that all-important a snow-sure altitude.  It's a relatively compact resort too, with everything within easy walking distance, although there is also a free and frequent bus shuttle service.  The lower 'Huez' part of the resort is particularly atmospheric, with its ancient chalet buildings and dark-wood-clad restaurants.  Above the original village, the main resort is roughly triangular in shape (with the main ski lifts coming out from the top of the triangle) and comprises mostly 1-3-star hotels and apartments.  There is just one 4-star apartment complex, Le Cristal de l'Alpe, but the remainder fall into the more affordable one- to three-star hotels and apartments.
Unlike Val d'Isère, Méribel and some of the better-known French resorts, Alpe d'Huez have worked hard to keep the resort feeling low-key, family friendly and affordable. Even the ski pass isn't too extortionate, compared with other French resorts of similar size.  Expect to pay €229 for a 6-day peak-season pass; €179 for kids aged 5-12 (2016 prices).
Alpe d'Huez's extensive ski area – grandly entitled Alpe d'Huez Grand Domaine Ski – takes in a number of small, lesser-known resorts (including Vaujany and Villard Reculas) plus a smattering of other ski villages with such crazy names as Auris en Oisans and Oz en Oisans (try saying those in a hurry after a vin chaud or two)! It is the biggest ski area in France's Isère département, with a whopping 250km of pistes for those wishing to clock up the kilometres – an ideal choice for beginners and intermediates, yet extensive, challenging and interesting enough for advanced skiers too.
Sadly, during our week's vacation, there was so little snow that only 32 out of 132 runs were open (which meant 20% off our lift passes!). We were pleased to find La Sarenne open: it's  officially the world's longest black run and a glorious ski whether or not you feel it's steep enough to warrant its 'black' grading.  (See how we got on skiing the Sarenne en famille in a previous story, by clicking HERE!)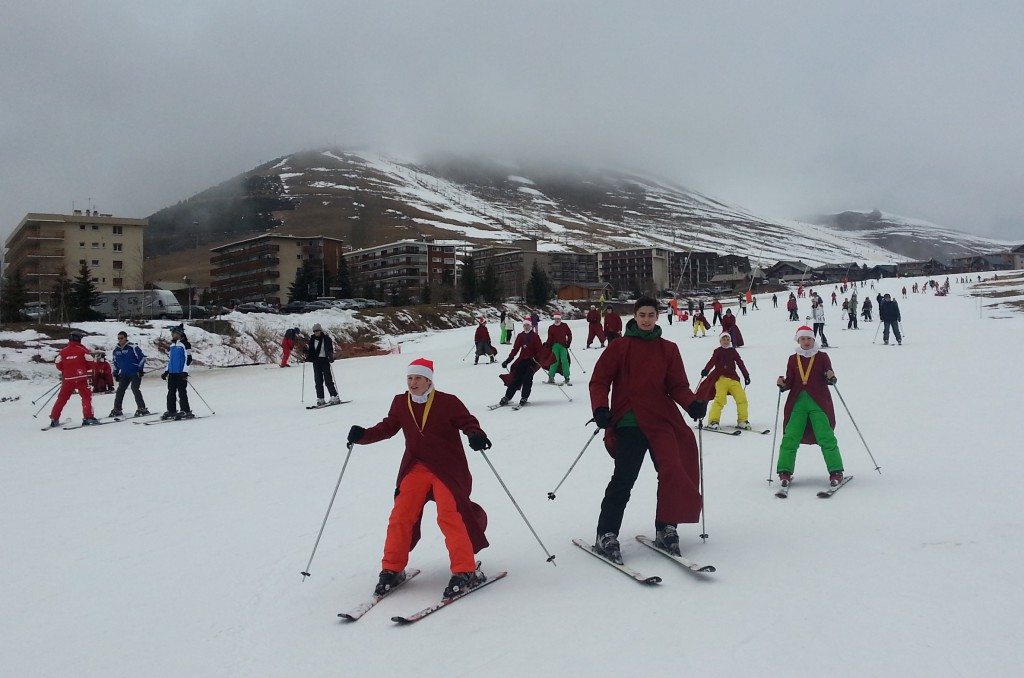 But back now to the choir ski-tour aspect of our trip: Take the burgundy cassock, white surplus and starched white ruffs off those angelic-looking choristers, put them all on skis and, needless to say, chaos ensues…
The boys were all different standards and ages (from 8-13) but keen to ski together… from mile muncher to park rat and gadget guru, we had them all (see what type of skier you are – according to  Crystal Ski – by clicking HERE)!  The out-going head chorister was an expert skier; the in-coming head-chorister a total beginner in a ski suit several sizes too big for him.  It could have been carnage!  Thankfully there were several proficient parent skiers willing to accompany the kids on the slopes to avoid them getting up to too much mischief.
Non-skiing parents were content with a lunchtime ride up the "Marmottes 1" chairlift to the fabled La Folie Douce (the resort's newest slopeside venue, newly opened in 2014) where the funky house music, pulsating across the pistes from the champagne-soaked sun terrace, provided a curious contrast in musical genres to the evening concerts of the Cathedral choir.
When most people think 'après ski', they think fondue parties, happy hour beers in crowded bars and dancing on the tables, and maybe a little bit of oom-pah music and yodelling, but not an English Cathedral choir singing in an alpine church.  Well, Alpe d'Huez was in for a big New Year's treat – as publicised by the choir on-piste and the local Alpe d'Huez TV company.   The choir even sung and skied simultaneously to advertise their concerts, in full Cathedral garb… and Santa hats!
Here's their advert for their concert, courtesy of Alpe d'Huez TV:
Two concerts of Christmas carols, French plainsong, organ music and other seasonal numbers were scheduled: in the church of Saint Laurent in Bourg en Oisans, down in the valley on 30 December; and, on New Year's Eve, in the architecturally-striking church of Notre Dame des Neiges ("Our Lady of the Snow"). The church was built from concrete, copper and wood in 1969.  Its tent-like interior is filled with contemporary stained-glass with the 'Hand of God' organ casing as its centrepiece; the acoustics are superb.  It is a surprising find amidst the bars and restaurants of a ski resort, but Alpe d'Huez still has a strong community feel,  centred round the church, an a sizeable audience for its weekly programme of classical concerts.
There are plenty of other activities on offer, including a large, modern indoor sports complex alongside the church with indoor rock-climbing; an excellent swimming pool, complete with sauna, steam room and Jacuzzi, and an open-air ice-rink (conveniently placed at the heart of the resort, alongside the bijoux Freeride Bar, which soon became the choir parents' 'local' while the choristers skated). For more cerebral exercies, there are museums, galleries, ice-carving, architecture tours, cinema and yoga.  For more adventurous types, there's ice-driving, ski-joëring, sledging, paragliding, skidooing, dog-sledding, microlighting, zip-lining, snow-shoe hiking, even Ice-laser gaming… and the list goes on.
Also, in the resort centre are find plenty of shops, bars and eateries, centred on Avenue des Jeux. Here traditional Savoyard restaurants (even though this is the Dauphiné-Isère region!) rub shoulders with pizzerias and crêperies: our favourite was La Fondue en Folie – a fondue joint extraordinare, where each table had its own individual bread basket on a pulley-system dangling from the ceiling.  For a more gourmet experience, the acclaimed Chalet Restaurant de l'Altiport on the edge of town serves sensational steak followed by a luscious blueberry crumble with cream overlooking the tiny uphill airstrip where planes land on skis.
All in all, as a family resort, it ticks all the boxes.  Everyone on tour had a terrific time, regardless of their ski level and the lack of snow.  We all left vowing to return.  All we need to know now, Dr P, is – what's the date of the next tour please? 🙂 … (and PS: the boys say, please can they do ice-laser-gaming next time too!)
Teresa Fisher was a guest of the Alpe d'Huez Grande Domaine ski area. A six-day adult area lift pass costs €255 per person (approx £187); €199 for a child.  Family passes are also available (online only), if you book at least 7 days before arrival in resort.  The resort also has a special spring offer of one free child's pass per adult pass.  Further details can be found here: http://www.sataski.com/en/winter/buy-skipass/  
For more information about Alpe d'Huez, please visit www.alpedhuez.com. 
Other related posts:
What's in a piste: Alpe d'Huez's celebrated La Sarenne
Airbnb and skiing