Canada's first heated chairlift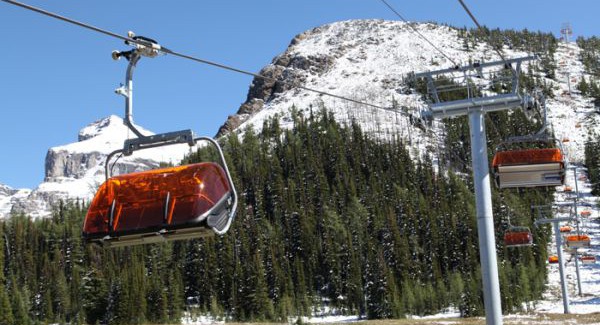 As resorts prepare for the forthcoming season, many are announcing new ski lifts, newly combined ski areas, new pistes, but one development stood out from the crowd – Canada's first heated chairlift.
It's bright orange, it's in Sunshine Village Resort at the heart of the Banff National Park, and it's up and running ready for the 2015-16 season. There are over 150 heated chairlifts in the Alps but this is only the third of its kind in North America (the other two are in Utah and Vermont).  It's called the TeePee Town LX high speed HOT chair!
The large aerodynamic orange acrylic bubbles of the TeePee Town lift will shield users from the elements – the lift was previously quite a windy ride – and its accesses beginner and intermediate runs as well as the more advanced black and double black terrain of the eternally popular Shoulder and Tee Pee Chutes.
The bright orange colour is cosy, sunny and fun. "It's almost like sitting inside a pair of goggles" remarked Sunshine village chief operating officer Dave Riley.
We were amused that the lift's called the "Tee-pee"….. we first experienced the joys of heated chair lifts whilst skiing in the Italian resort of Kronplatz; see HERE for that story. For those who've yet to discover the delights of a heated chairlift, let us explain: when you first sit down, it's a most bizarre sensation… almost as though you've wet yourself! But then you realise it's just the seat that's heated and you can settle in for the duration of the ride and thaw out before braving the elements on the next piste.
We're very much looking forward to riding the new Tee-pee quad soon!