Cherry blossom inspiration for Mothers' Day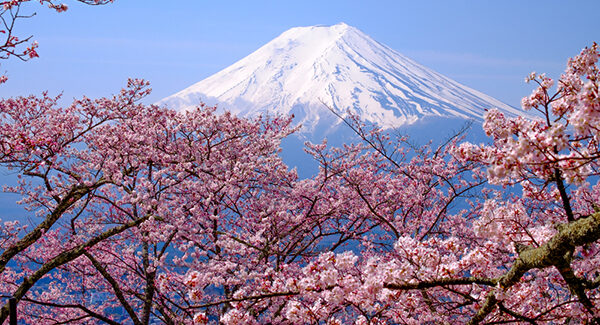 Spring is finally sprung.  March is here and, while there's not much skiing to be had, there's still plenty to look forward to this month including spring blossom season. So FamilySkiNews have been busy selecting gifts for Mothers' Day (14 March in the UK) from ranging from mountain-shaped lamps to a good cup of cherry blossom tea! 
March in Japan marks the peak of the 'sakura' 桜 (cherry blossom) season – one of the most popular times to visit the country, where hundreds of locals and tourists gather to stroll beneath the falling pink petals, often described by Japanese poets as 'spring snow'.
To view the cherry blossom with fewer crowds, head to the northern mountainous Hokkaido, more typically known as the island of mountains, beautiful snowscapes and ski resorts.  Whereas, in other areas, the cherry blossom is a symbol of the peak of spring, in Hokkaido, it announces the arrival of spring – here cherry blossom season starts in late April and typically takes about a month to go through the entire island. The snow doesn't start to melt until late April, just as the flowers at higher altitudes begin to bloom.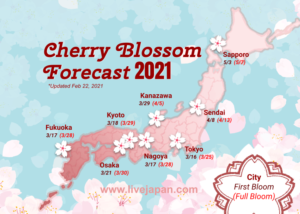 Japan's Springtime or 'hanami' 花見 (literally 'to view flowers')  is an age-old tradition dating back to the 7th century, but it has become a bit of a national obsession in recent years – viewing the blossoms with family and friends, as generations have done throughout the centuries,  enjoying picnics under the symbolic flowers, eating pink-hued food and drink and buying gifts inspired by the blossoms. It is defined by the Japanese as a fleeting moment of beauty and delight; a rebirth; the inexorable yet beautiful essence of existence.  To sit in the dappled sunlight beneath a canopy of blooms is to breathe a shared spirit of joy and renewal, and it's considered an important family ritual in Japan.  The country even has a number of special forecasts, to help everyone see the trees at their finest, including a televised Chery Blossom Forecast which gives a daily petal-by-petal analysis of the blooms.
In the UK, the National Trust have launched a new initiative to plant blossoming tree circles in cities across England, Wales and Northern Ireland over the next five years.  The charity is hoping to mark spring blossom season each year, to emulating Japan's 'hanami' 花見.  The National Trust hope that their initiative will help people connect with nature and the great outdoors, as well ultimately boosting domestic tourism.
Planting is already underway for the first blossom circle, in the Queen Elizabeth Olympic Park in Newham, the same borough as the temporary NHS Nightingale hospital in London. It includes cherry, plum, hawthorn and crab apple trees – 33 in total, to represent the 33 boroughs of London. A further three blossom-inspired spaces are planned for Newcastle, Nottingham and Plymouth.
Meanwhile, here at FamilySkiNews, we've been looking at Japanese themed cherry-blossom-inspired gifts for Mother's Day.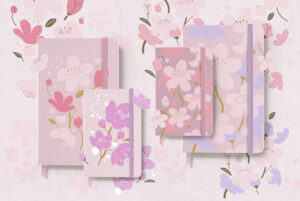 Moleskine have just launched their annual limited Edition 'Sakura 2021' notebooks, with glossy
silk-screen printed fabric covers which feature delicate cover designs reflecting the soft hues and silhouettes of gossamer cherry blossom petals.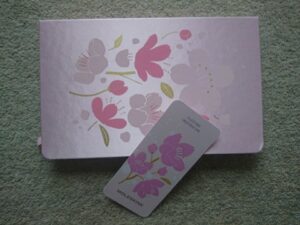 Available in two sizes and four colourways, the petal motif continues inside the cover of the notebooks as well as on the paper band and stickers that are part of every Moleskine Limited Edition.  The notebook contains 240 lined acid-free pages, a 'fleeting inspiration' bookmark, and a useful expandable inner pocket for notes, receipts or other goodies. You can find the notebooks for sale by clicking HERE from £11.90.  They are indeed a gift to treasure, not to mention the perfect place for creative writing to bloom.
Other Mothers' Day gifts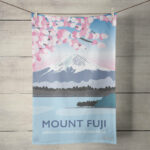 Not on the High Street are offering almost-too-beautiful-to-wash-up-with Mount Fuji tea towels (£14.99) featuring the iconic Japanese peak framed by sakura:
For mums who are mountain lovers, we simply love this Mount-Fuji lamp, (£30) also by Not on the High Street, and available in dusty pink (shown here), blue and grey.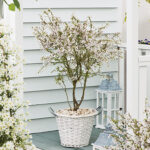 Or why not buy your mother your very own cherry blossom tree to nurture at home? Primrose Nurseries sell the sweetest 1-foot high dwarf 'Fuji' trees (9cm pot) for £15.99.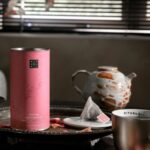 Cosmetics store Rituals offer an entire 'Ritual of Sakura' range of unctuous gifts, enriched by petals, from shower gels to hand sanitisers, moisturisers, wardrobe sachets, diffusers and candles – all perfect for Mothers' Day. Our favourite is the renewing, organic green 'Sakura' tea (£6.50)… perhaps because the teabags are each shaped like mini Mt-Fuji mountains! 😊