Pippa Middleton races for ski charity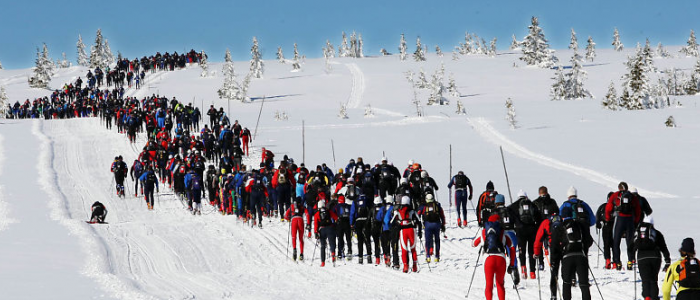 Earlier this week, Pippa Middleton, sister of Catherine, Duchess of Cambridge, took part in The Birkenbeinerrenet cross-country ski race in Norway. She was there representing Disability Snowsport UK – helping to raise awareness for  the UK's National Skiers' and Boarders' Charity. 
The Birkenbeinerrenet cross-country ski race is a gruelling 54 km cross-country ski race across two Norwegian mountains from Rena to Lillehammer. It was set up to commemorate 1206 rescue of 18-month-old Prince Haakon Haakonsson, who then grew up to become king and unite Norway after 1000 years of civil war.  Each of the 16,500 competitors must carry a 3.5kg rucksack in commemoration of the journey, when the young prince was carried across the snowy mountains to safety in Trondheim.
The race ended in the Birkenbeinerrenet ski stadium.  Pippa finished with a very respectable time of 5 hours and 58 minutes.
After the race, Pippa said "As a lover of skiing, I hope to help individuals with a disability, experience the positive thrills and rewards that snow sports can offer by raising awareness of DSUK's great work. I have seen first-hand through the DSUK ski schools how people's independence and confidence can grow from getting out on the slopes in the fresh air and interacting within a social environment."
"I was nervous at the start, it's a tough race with plenty of uphill and a strong headwind but I enjoyed every minute of it and the fine weather lifted everyone's spirits. The course was beautiful and the atmosphere amazing between competitors and supporters along the way. I am happy to have participated and most importantly crossed the finish line. Hopefully my involvement in this unique Norwegian skiing event will help shine a spotlight on Disability SnowSport UK, which is a cause close to my heart."
Pippa has been closely involved with the work of DSUK for the past two years.
DSUK provides opportunities for people of all ages and disabilities across the UK to get onto the slopes through adaptive lessons, recreational sessions and activity weeks abroad in partnership with Crystal Ski.