Let there be light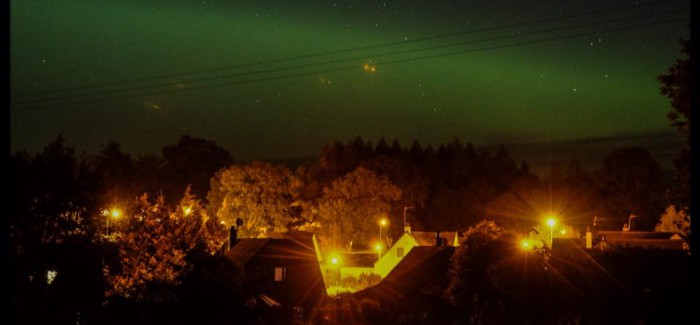 This year is perfect for sighting the Northern Lights, as we are currently bang in the middle of a 'solar maximum' – the 11-year cycle which governs auroral activity.
Some of the FamilySkiNews team are northward-bound once more this weekend to Beitostolen in Norway.
We are hoping we might catch a glimpse of these oh-so-elusive Northern Lights – the eerie light patterns of yellow, pink and green which dance across the night sky.
We missed them last month in Sweden but we thought it seemed a good excuse to travel to the northernmost reaches of Europe once more in a second attempt this year to see the eerie light patterns of yellow, pink and green which dance across the night sky.
Displays, while never guaranteed, are likely to be more frequent, more vivid and more extensive than usual as a result of the 'solar maximum'.  In all the traditional places for optimum aurora borealis sightings – the northern reaches of Scandinavia, Iceland, Finland, Northern Canada and Alaska– there have been truly dramatic displays this winter. They have also been visible from farther afield than usual.  Already this year there have been sightings in Scotland and as far south as Yorkshire and Northumberland.
The solar maximum is due to last for one more year which means, for anyone travelling in 2013 and the start of 2014, the prospects for viewing the aurora borealis have never been brighter.
Admittedly April is a little late for the best aurora chasing.  The prime times of year are October and February-March – mainly because it's dark for longer and there is less cloud cover during these months than in the other winter months.
To help optimise your chances of seeing the lights, follow our tips by clicking HERE.
Also, some tour operators offer specialised trips.  Here are six of our favourites:
1) Cruise to northern Norway with Norwegian cruise line Hurtigruten on their 5-day "Arctic Highlights Voyage from Tromso to Kirkenes, or the 12-day Astronomy Voyage this Autumn led by Northern Lights experts, departing from Bergen.  Tromso is the top European destination for Northern Lights viewing – it's easy to get to and right in the middle of the aurora belt.
2) More than 200 miles inside the Arctic Circle, on Norway's remote northern border with Russia, Inntravel offers a 3-night tour, based at Sollia Gjestegard hotel, featuring mushing, snowmobiling and sledging out to an aurora borealis base camp.
3) Transun's 3-night 'Northern Lights Experience' included an introduction to snow-shoeing and a thrilling nighttime skidoo safari. Their 7-night 'Arctic Spirit Northern Lights' tours to the far north of Finnish Lapland where the skies are often clear and with a high hit rate for aurora-spotting. There is an option to stay a night in an igloo too.
4) Stay in the Ice Hotel in Jukkasjarvi in Lapland, or view the skies from your very own tree-house accommodation at the Treehotel in the forests of Swedish Lapland with Simply Sweden.
5) Specialised Tours organise a 3-night 'Aurora Hunting' tour in Norwegian Lapland or a 7-night 'Land of the Northern Lights' tour including a railway journey along the Arctic Circle, an overnight sea trip, two nights in the Lofoten Islands and a stay in Tromso – home to the Arctic Cathedral and Polar Museum.
6) Aurora Zone specialises in 3-, 4-, 6- and 7-day aurora-spotting trips ranging from  'Husky and Aurora Weekends' and 'Aurora Photography tours' in Norway to Icelandic 'Natural Wonders' and 'Northern Lights' tours."
Here at FamilySkiNews  we've been lucky enough to have seen the aurora borealis many times and it is always different, very exciting, and always bewitchingly beautiful.
We highly recommend you book now to see the greatest light show on earth!