Double amputee summits the Matterhorn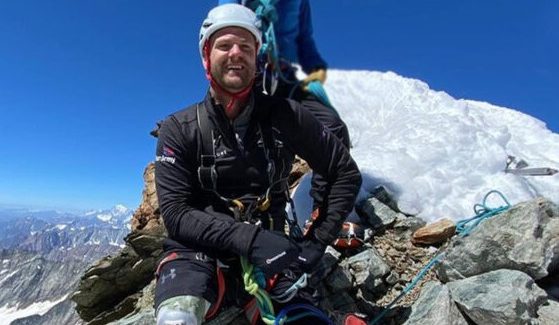 A former soldier who lost both of his legs in Iraq has become the first above-the-knee double amputee to summit Switzerland's iconic Matterhorn.
Neil Heritage, 39, successfully climbed the mountain last week, with friend Mark Hooks and three guides.  They ascended the Swiss side.
Neil Heritage had previously worked in bomb disposal in the military.  He now runs a charity helping injured veterans with their rehabilitation.  His climb has raised more than £6,000 for his charity, Climb 2 Recovery.
It was their third attempt.  Previously poor weather had prevented them from attempting the challenge.
This successful climb was the culmination of three years of hard work and training, though Neil is no stranger to physical challenge: in 2012 he rowed across the Atlantic.
Mark Hooks said: "When we got to the top it was just so special, managing to achieve something we've worked so hard on over the years… it was very emotional."
The climb was extremely challenging, and Neil Heritage's prosthetic leg fell off about 100 metres from the summit.
According to Mark Hooks: "There was a bit of a traffic jam at the top of the Matterhorn at the time… One of the guides came across as Neil was sat on the side of the mountain – that was a good 20-to-30 minute ordeal.
"We got it [the prosthetic] back on and made the summit. It was tough getting down after all the effort and elation of getting to the top."
Back at the Hörnli hut basecamp, Neil Heritage was relieved to find a helicopter to take him back down to Zermatt. It had taken him 5 hours and 20 minutes just to climb up to the hut from the village, earlier in the week.
To donate to Neil's charity, Climb 2 Recovery, click HERE.