Celebrities quit new snowsports show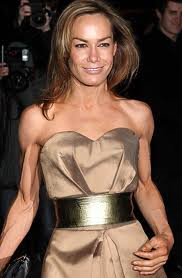 Celebrity socialite Tara Palmer Tomkinson has dropped out of Channel 4's new winter-themed reality competition, The Jump.
Last month she told reporters that she felt under pressure as she had been cited as being one of the favourites to win.  Now, after training at The Snow Centre at Hemel Hempstead, plus one week of further training in Austria, she has decided the competition is not for her.
The former IT girl was originally very excited about taking part, saying.  "I think it was something I just couldn't say no to with Dad being an Olympic skier, and my grandfather… it's not being stuck in a house in Elstree."
Tara has an undeniably high skiing pedigree: her grandfather was Captain of the British ski team; her father, Charles, is a former British Olympic skier who allegedly taught Prince Charles to ski; and her brother Jeremy was also a former British ski champion.
Even last December, she took a break from her ski-jump training, saying "I feel like I'm under a lot of pressure. I'm not very comfortable with being the favourite. I'm really not."
She continued: "I've had quite a mental challenge remaining sober for a year. I took myself out of television for a year, any public thing. Just focused on doing charity work."
"I need to mentally focus myself at the top. You cannot point your skis downhill on tracks and let go of the bench if you're not mentally prepared. You have to discipline yourself. You have to have a respect for your higher power and the mountain you're on."
She will be replaced on The Jump by TV presenter Laura Hamilton who, with just a couple of weeks to go, is already out in Austria training!  She has had some experience of winter sports before… she came second on ITV's Dancing on Ice in 2011!
Tara is not the only celebrity to drop out.  Earlier today, Sam Jones (aka Flash Gordon) also dropped out following a shoulder injury which he sustained during training several weeks ago, but which has been slow to heal.  He will be replaced by singer and band member of Five, Ritchie Neville, who is no stranger to outdoor pursuits.
He commented: "Whether it's a weekend mountaineering, an outdoor survival week or now full winter sports I love it."
When questioned about his participation on The Jump, he continued, "One of the most terrifying things I have ever done.  Having no previous experience I've had to learn so much but I'm loving it… Good clean 'adventure' where you're absolutely terrified is, for some unbeknownst reason, one of my greatest pleasures."
On his opponents, he remarked "When you're up against the likes of Sir Steve my biggest fear is looking soft by comparison and that is the greatest motivator!"
Other celebrities on the programme, which airs later this month on Channel 4, include former Olympian Sir Steve Redgrave, TOWIE star Amy Childs and Marcus Brigstocke.  Over the course of ten consecutive nights, twelve celebrities will take to the slopes and compete against each other in six of the most dangerous and challenging winter sports, including speed skating, bobsleigh and ski jumping.
It should be well worth watching!