National Schools Snowsport Week success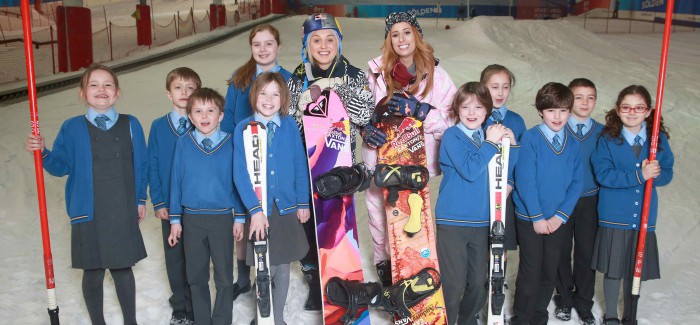 National Schools Snowsport Week (22-29 April) has been a huge success with over a thousand schoolchildren trying out skiing and snowboarding across ski slopes in England.  
One hundred and forty-nine schools and 1066 children were involved in Snowsport England's  'National Schools Snowsport Week' – a brand new initiative aimed at encouraging schools to introduce their pupils to snowsports.
Following on from Snowsport England's hugely popular national snowsports participation campaign, GO SKI GO BOARD (which started in 2013, as we reported HERE), National Schools Snowsport Week took place at 21 slopes across the country (see list below), providing an amazing  opportunity for schoolchildren across the country to try skiing or snowboarding either for free or at low cost.
National Schools Snowsport Week ambassadors Stacey Solomon and GB snowboarder Aimee Fuller were at the launch to show children how to ski. Stacey was the winner of the second series of the Channel 4 snowsports series The Jump, which we featured in a previous article HERE.
The week included free taster sessions at most of the slopes and low cost recreational slope time, as well as several events aimed at schools, including the ERSA Schools Race at Suffolk Ski Centre and the Independent Schools Association Championships at The Snow Centre.
The event was sponsored by Visit Andorra and also supported by school tour operator Equity, who offer affordable skiing to schools.
Dominic McGonigal, Chairman of Snowsport England's Youth Development Committee said at the conclusion of the campaign: "2016's National Schools Snowsport Week has exceeded our expectations by a long way. By signing up 21 slopes to the initiative and getting over a thousand children involved we have beaten all targets, and more importantly given the snowsports bug to hundreds of children across the country."
He continued: "A big thanks goes out to all the schools, slopes and volunteers involved. We definitely plan to do the same again next year but even bigger and better!"
Check out the National Schools Snowsport Week website (where schools can also sign up for Schools Membership of Snowsport England HERE), or their Facebook page to see some photos of the event and dates for next year!
Slopes that participated in National Schools Snowsports Week 2016:
Ackers Adventure, Birmingham
Alpine Snowsports Centre, Southampton
Bracknell Ski and Snowboard Centre
Chatham Ski and Snowboard Centre
Chill Factore, Manchester
Gosling Ski and Board Centre
Gloucester Ski and Snowboard Centre
Impulse Racing (at The Snow Centre, Hemel)
Mendip Snowsports Centre
Plymouth Ski and Snowboard Centre
Silksworth Ski Slope, Sunderland
Ski Rossendale
Ski Torquay
Skiplex Chiswick
Skiplex Reading
Skiplex Basingstoke
SnowDome, Tamworth
Stoke Ski and Snowboard Centre
Suffolk Ski Centre
Swadlincote Ski and Snowboard Centre
The Snow Centre/ Hemel Ski Race Club
Other related posts:
National Schools Snowsport Week is coming soon
Racing on indoor snow
Skiplex: Improve your ski technique
Skiing in central London