Living the high life in Les Saisies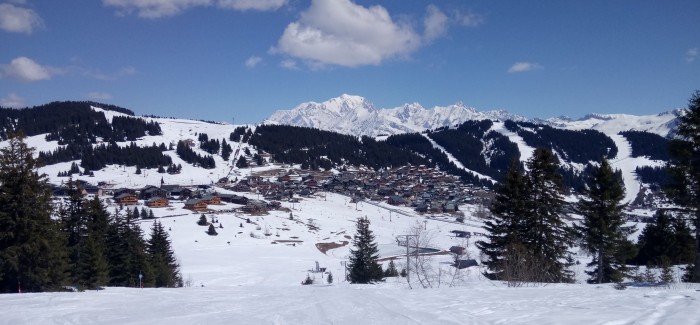 Les Saisies is going places. In the past three years, it's invested over €30m in resort. Long famed as Frence's top Nordic Ski resort, it boasts incredible mountain views (not least Mont-Blanc) and it's an ideal family location, as Briony Key reports: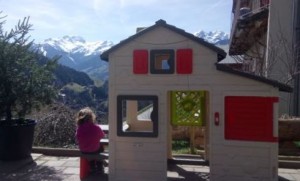 While not one of the big name resorts, Les Saisies is often overlooked.  But it's an ideal destination for your family ski holiday, without the crowds and lift queues of some larger resorts in the French Alps.  For starters, it's easily reached – situated just 50 minutes from Albertville, between the Beaufortain and the Val d'Arly.  The village is sandwiched between Savoie and the Haute Savoie, making it a popular and snow-sure winter sports destination for locals and those in the know.
New this season
This season, Les Saisies has a number of new attractions, increasing its appeal for families.  For starters, the 500m-long Aiglon run (one of the best runs in the resort) has been adapted and dedicated to slow skiing to help beginners improve their turns.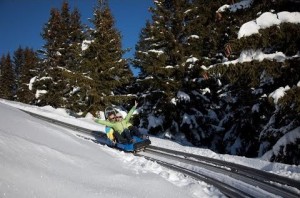 Families should also checkout the Elfik Park – a 3-hectare family area with a 'snootcross' run – a ski cross run devoted to children, with banked corners, tree trunk-shaped tunnels, giant mushrooms and playful sound modules.
For younger or less daring children, the fun run through the forest has also been improved with wider passageways and new modules, and here's also a new 2km evening toboggan run to the summit of Mont Bisanne.
And – for mums and dads – let's not forget the new gourmet restaurant, Le Table des Armaillis opens in December, headed by Michelin star chef Laurent Peugeot. For time out from the kids, to cater for your long leisurely lunches, there's a mini crèche service, registered child minder, snowshoe outing for 5-12 year olds, Enchanted Forest ski excursions, a Baby Park (dog sledging for 3-7 year olds), and a Kids' Club.
The ski area
The resort has 70kms of marked Alpine ski runs, with routes down into the neighbouring villages of Hauteluce and Bisanne, which are also linked by a free ski bus service.  Ideal for beginners, and improvers, the area boasts varied terrain from forests to Alpine meadows (I wallowed in powder-perfect snow on my visit) and includes 12 green slopes, 22 blue slopes, 15 red slopes, five black slopes and a snowpark.
The runs are wide, and easy to access, with views that would make it rude not to stop often for a look.  Even if your children are too small to take the chairlift, this need not stop them (nor beginner adults) from having a go at skiing as the resort also has three free rope tows (at Les Trolles, in the cross-country ski park, Les Lutins, near the snow garden and Les Gobelins at Bisanne 1500m).
Those at the other end of the scale won't be disappointed either – just head to the top of Légette to try the black run, with its narrow couloirs, and the off-piste options through the trees.
The Nordic Ski Olympic area is certainly appealing too, if cross-country is more your thing, with 80km of marked pistes extending over a large sunny plateau, and plenty of beaming cross-country enthusiasts making the most of this perfectly maintained terrain.
Non-skiers
Hiking is a popular pursuit here year-round, with some late season ski lifts taking as many hikers as skiers up the slopes, and a year-round luge, for those who want some twister time.
Snowshoeing and dog sledging are also part of the winter programme, with Le Signal providing many of the inside options, from the leisure centre's bowling, swimming, wellness, and multi-sports area to evening entertainment in the restaurant/bar.
And it's also worth casting your eyes to the skies, as you can try paragliding and panoramic flights here.
Where to stay?
The traditional town of Hauteluce defines the word 'authentic' with its Baroque church, old chalets, eco-museum and Mont Blanc backdrop.  Alternatively try Bisanne 1500, a small, friendly village, where having a coffee can become way more than the short break you'd planned as you soak up the ambience.  (For less confident skiers, the blue ski run down to Bisanne is cruisy, with great views out over the Beaufortain).
I stayed with Peak Retreats at its new apartments, Residence des Armaillis.
This south-facing, self-catered space was light and sunny, with spectacular views of the slopes, the Beaufortain Massif and Mont Bisanne.
Other pluses here were the boot warmers in the ski room, a free bus right outside the front door, covered parking (one space per flat) and a reception area (Conciergerie), which was helpful for taxi bookings, meal deliveries and restaurant reservations, not to mention the loan of such practical items as ironing boards… plus raclette and fondue sets and board games – perfect for evening family fun.  The accommodation also included access to a spa area, where where you could sink your toes into a hot tub, Jacuzzi, pool and sauna.  Perfect!
Espace Diamant
I was more than occupied in this resort but there is also a wider picture, as Les Saisies also links to the Espace Diamant ski area, which gives you access to 192kms of piste and three snow parks.
The villages of Crest Voland Cohennoz, Flumet, Hauteluce, Notre-Dame-de-Bellecombe, Praz sur Arly and Les Saisies are all included in this ski area.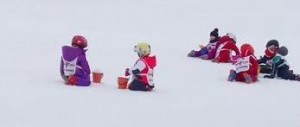 Briony stayed with Peak Retreats at Les Armaillis in Les Saisies: seven nights self-catered from £219pp, including Eurotunnel crossing with FlexiPlus upgrade.