It's World Snow Day this Sunday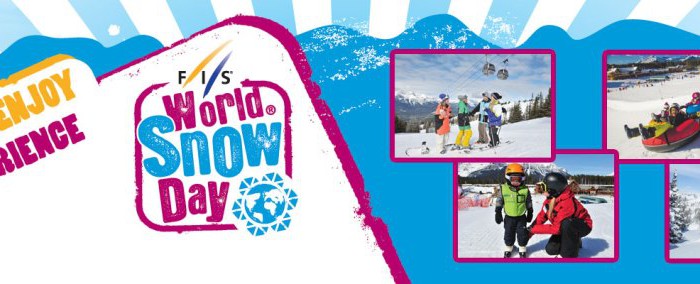 World Snow Day is taking place on Sunday (18th January) – 645 events are scheduled across 45 countries, to celebrate all things on snow and to get more families involved in winter sports.  Many of the activities on offer will be free.
The first World Snow Day was back in 2011 and it has grown from strength to strength ever since. This year is the 4th event, and it promises to be the biggest one yet, with events throughout Austria, Canada, China, Iceland, Latvia, Norway, Poland, USA, Russia, Sweden, Peru, Argentina, Kazakhstan, Mongolia…. the list goes on!
Many of the activities on offer will be free, with the aim of getting as many people as possible involved in snowy activities.  Here are some of the highlights, country by country:
At Norway's 'Apen Bakke' (Open Day), a record 103 resorts will open their doors to an estimated 130,000 participants for free skiing and snowboarding.
There's free snow soccer at Denmark's debut World Snow Day.
The American resorts of Killington and Pico Mountain are staging free instruction for adults and free lift passes.
Mongolia's Sky Resort Ski Complex is celebrating their nation's first World Snow Day with free lessons and passes.
In Iceland, a record nine resorts will be hosting free or discounted ski passes for families.
In China 15 resorts across the country are giving free or discounted passes to children.
In Austria, 138 resorts will be offering school children the chance to try snow sports for as little as five Euros.
There will be half price children's lift passes at Serbia's major ski resorts.
44 ski and snowboard schools in Poland are offering free ski and snowboarding lessons.
The resorts of Stockholm, Norrkoping and Ornskoldsvik in Sweden are offering various snowy activities and free lessons in Sweden.
Canadian Ski Patrol World Snow Day will host over 20 events demonstrating to kids the fun of snow sports with an emphasis on safety.
Other highlights include at snow festival in Shymbulak Ski Resort in Kazakhstan, 113 events in Latvia with lessons, safety demonstrations and  fun races; a free children's mountain tour in Bariloche, and a World Snow Day in the sand in Peru!
FIS President Gian Franco Kasper said, "Many global events slow down or disappear by their third edition. This is not the case for World Snow Day. Organisers have shown that there is a strong global drive to bring children to the snow. I congratulate the Organisers of the 4th edition of World Snow Day, you are the best this event has ever seen."
To find out further information on specific events, visit the World Snow Day website HERE. 
Other related posts:
World Snow Day
World Snow Day bringing children to the snow
World Snow Day – a massive success
World Snow Day 2013 report published
World Snow Day is sponsored by Audi, European Broadcasting Union, Eurosport, Infront Sports & Media, Best of the Alps, Sanetta, the World Federation of the Sporting Goods Industry and the European Federation of the Sporting Goods Industry.