Snow fun and games in Adelboden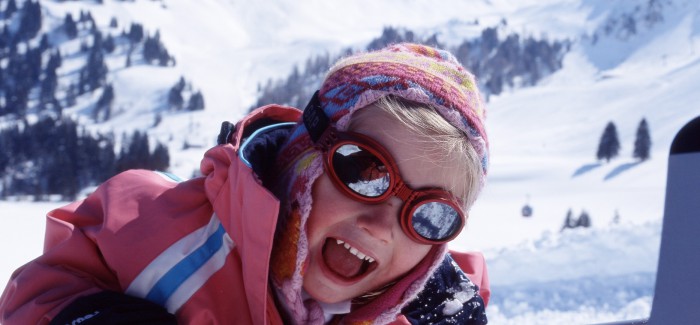 From igloo festivals to airboarding, snowbocking and snoocing, not to mention pop-up golf, toboggan races and tubing… there's so much more to a family ski holiday in Adelboden than simply skiing.  
Here's Briony Key's latest family-friendly resort guide to Adelboden!
Can you think of a cartoon character who has been a big hit across three generations? For the Swiss it's easy. Globi is their 70-year-old hero and the popular blue bird is now promoting skiing in Adelboden.
Snugly set in the Bernese Alps, Switzerland's winter sports hub is reaping the benefits of Globi's help.
At Engstligenalp he even has his own ski lift so children can make their own special journeys up and down the mountain.
Engstilgenalp is the largest high plateau of the Western Alps (2,000m above sea level), and a stunning, safe space for families to enjoy skiing tubing, hiking, winter games.
This winter they can also enjoy new activities with 'Globi in the snow'. At Kinderland, young children can try skiing and boarding for the first time. At ski school the fun loving blue bird is there to help with their first turns, while Globi tube sees children shredding down the mountain in air-filled rings.
Since 1995 the plateau has also become home to large winter igloos, where you can settle in for a warming fondue and see the ice sculptures of nationally acclaimed artist, Björn Zryd.
Each March the Igloo Festival also gives igloo lovers the chance to create an ice village on this popular plateau, where you can ski until April.
Ski area
Engstilgenalp is part of the Adelboden-Frutigen-Lenk ski region – one of the largest snow sports regions in Switzerland, with a piste network of over 210 kilometres, and guaranteed snow in 60% of the main areas.
The buzzing beginners' area is really easy to access, and there's plenty of wide blues and reds for those keen to improve their intermediate skills.
The FIS Ski World Cup takes place here each January, and it's also now possible to have a timed and filmed run on the original World Cup piste.
'Ski like the champions' is proving popular with all ages, as you can see your filmed descent online, and own your own personal ski movie.
Sports options
But Adelboden isn't just for those who wish to enjoy Alpine skiing. There's plenty of alternative sports' options between the Niesen mountain chain and the Lohner massif.
Families can also enjoy biking, winter hiking, cross-country skiing trails, ice-skating and tobogganing trails.
We sloped off to the Schlittelpark (sledge park) to have a go at this sport and found 14kms of blue and red slopes for beginners like ourselves, as well as for more hardy speed fans. The slopes lie across Tchentenalp, with four runs offering hours of laughter for all ages.
Your sledge pass allows you to choose your route, and your equipment, which ranges from classic wooden models, to the traditional chair sledge (Skibock), the modern air-board and the trendy Snooc.
Adelboden also has plenty of events to plan your holiday around, from the World Cup and Igloo Festival already mentioned, to the Horäschlittä Renä (horn toboggan race) in February, when about 100 two-person teams take part.
Chuenis by Night also takes places in February, which involves a race down the original Chuenisbärgli World Cup piste at night, coupled with a laser and winter sports show.
The Migros Grand Prix Final runs from March 30- April 2, when Switzerland's fastest 8-16 year olds head to town for the biggest children's ski race in Europe.
And the Ski Festival is an annual part of the April calendar (8-9), with live music and competitions across the mountains.
Leisure pleasure
The events continue throughout the year, with highlights including the Swiss Chamber Music Festival in September/October and the unique Golf Mountain.
Europe's highest 18-hole pop-up golf course returns to Engstligenalp each September/October, with games followed by tasty cheese treats in the raclette hut.
The area is also building its reputation as a wellness haven, with five gourmet restaurants.
The Parkhotel Bellevue & Spa
A treat for any family, this welcoming design hotel has all the 21st century gismos you could wish for, from tablets in the room to trendy furnishings. Yet it retains an old-world charm with its vintage furnishings and five-star service.
Set slightly above the village, it's an ideal place for a spa complex.  The heated outdoor saltwater bath here is an ideal place to sink into the bubbles and enjoy great views of the mountains.
The food here is also sumptuous, with creative Swiss cuisine fused with a clever French flair.
Other foodie treats include the Alpenblick Restaurant, one of several gourmet restaurants in the region. Chef Bjorn Inniger and his family served us seven mouth-watering courses, with a five-star service.
You can enjoy certainly lap up the luxury here, or take time out and enjoy some pampering while the youngsters enjoy the sports.  After all, you may well need a well-earned rest after the snoocing, the toboganning, the golf, the tubing, the igloo building…
Briony travelled with Skywork (www.flyskywork.com), which operates two flights daily from London City airport to Berne-Belp, return flights cost from £190.  She stayed at the four star plus Parkhotel Bellevue & Spa (www.parkhotel-bellevue.ch/en/), where room rates start from £115 per person sharing a double room on a half board basis.  For more information about Adelboden, visit http://www.adelboden.ch/en/w/home and, for special offers, see http://www.adelboden.ch/en/w/offers.