Dress your snow angel like Princess Charlotte
Princess Charlotte and Prince George have just returned from their first family holiday playing in the snow. George is now 2 years old and baby Charlotte is just ten months old – a veritable snow angel.
While Prince George was old enough to play in the snow, Princess Charlotte just looked on with plenty of smiles, adorably dressed top-to-toe in a white snowsuit with baby pink bonnet and booties. A veritable snow angel!
If you too want your snow baby to look as adorable as Princess Charlotte, head straight to John Lewis online! Charlotte was wearing a John Lewis all-in-one snow suit with a cosy faux-fur hood and ears!
It costs just £28 and comes in off-white, pink or baby blue; in sizes: newborn, 0-3 months, 6-9 months and 9-12 months.
So hurry and click HERE, while stocks last!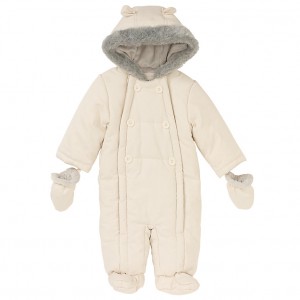 Images: John Stillwell & John Lewis